21 maart, Maastricht: protestactie tegen racisme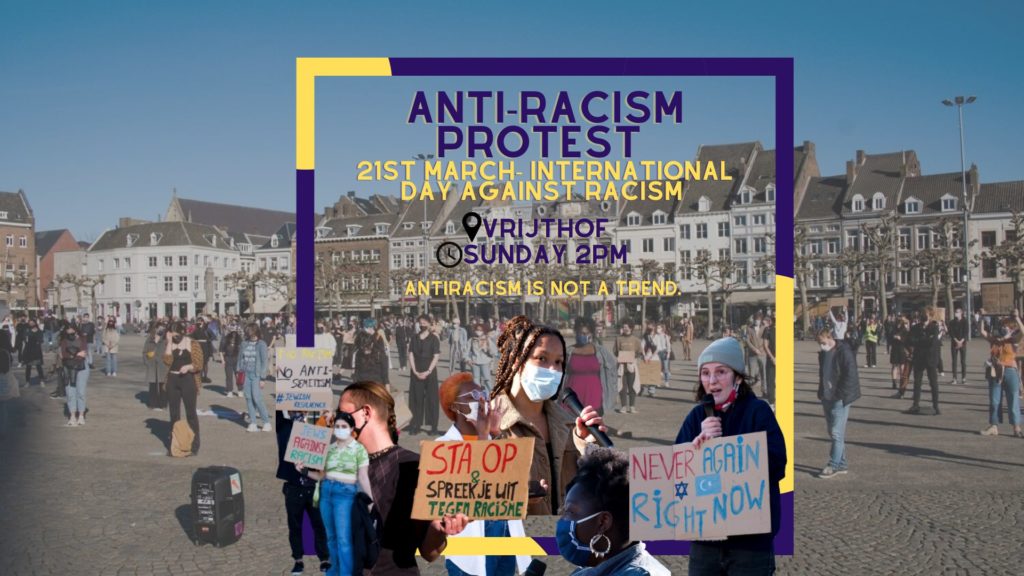 Op 21 maart organiseren Black Lives Matter Maastricht en Amnesty International Maastricht Students (AIMS) een protestactie in het kader van de internationale dag tegen racisme.
Uit de oproeptekst: "Every year we use the date of the 21st of March to stand up against any forms of racism, antisemitism, anti-blackness, islamophobia and xenophobia in Maastricht, the Netherlands and Europe. In most election polls, the right and extreme right are poised to once again dominate Dutch election results. Fascism is on the rise in Europe, as right-wing political figures like Wilders and Baudet have adopted islamophobic and broadly racist talking points. We continue to read about Hitler-glorifying political youth groups, racist police officers and tax scandals affecting lower class people who disproportionately come from immigration backgrounds. We saw the face of racism when a mob of people attacked peaceful KOZP protesters and pelted them with eggs for protesting against the caricature of Zwarte Piet and we refuse to accept its presence in Maastricht.
We cannot forget that racism did not spring fully formed from the minds of a few right-wing ideologues. Racism is endemic to modern Western culture and has continued to proliferate for centuries, influencing all aspects of life; be they political, cultural or economic. Colonialism and the idea of white male superiority have shaped our history and continue to influence our foreign policy, cultural traditions and educational programmes. None of us exist outside of society. We have all been influenced by history, we all bear the burden of racism and we must all take a stand against any racism that continues to exist around us, now and in the future.
Zondag 21 maart
Vanaf 14:00 uur
Vrijthof, Maastricht
Facebook
The attacks of the extreme right and the general atmosphere of racism cannot be ignored and should not go uncriticized. We will take to the streets and make it clear that change is needed. While hooligans celebrated chasing away anti-racist protesters, we want to make clear that we are still here and refuse to remain silent. We want to show the municipality of Maastricht and our fellow citizens how serious and debilitating the issue of racism is, whether it is interpersonal or institutional. We want to fight for an inclusive Maastricht, where everyone can feel safe and welcome.
Join us on the 21st of March, at 14:00 on the Vrijthof, to show your anger, your concerns and your solidarity. General COVID-19 rules will apply: masks are obligatory, 1.5 meters distance must be kept at all times and we ask everyone to disinfect their hands upon arrival. After the end of the protest, please don't stay in groups at the Vrijthof."
Harry Westerink