Marty: "Our feminism can't be but decolonial, antiracist, anti-economic exploitation, anti-ableist, pro-migrants, and queer" (video)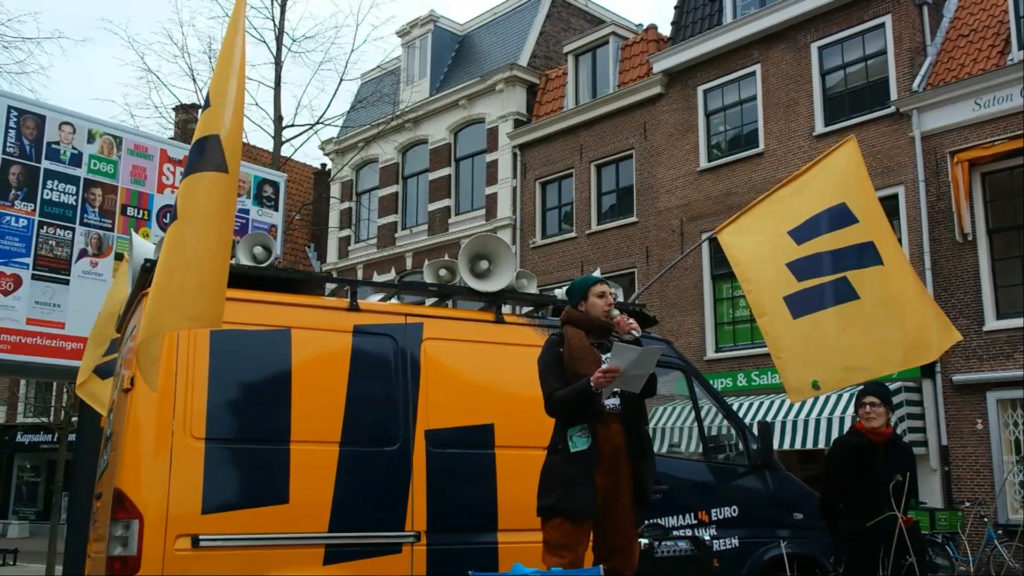 Yesterday the Working-Class Heroines, the women of #Leidenvoor14, organized protests on four locations in Leiden on occasion of international Women's Day. Here's the great speech by Marty, which they held on the 5 Meiplein and again on the Haarlemmerstraat. (Mariët van Bommel also gave a speech, in Dutch)
Women of Leiden,
The words of my comrade are clear:
This is a state of silenced emergency that we live in in the Netherlands, a state of neglected abuse by the hands of institutions, companies, and a whole culture based on hetero-patriarchal oppression and on valuing profit over our lives.
Our sisters are being touched without consent by people they don't know, and more often by people they know.
Our working-class sisters are being denied a fair wage by their employers.
Our Muslim sisters are being falsely accused of terrorism by the state.
Our Lesbian, Bisexual, Transgender and Queer sisters are being denied mental healthcare when they need it the most.
Our migrant sisters are being left drowning in the Mediterranean Sea.
Our black sisters are being treated as third-class citizens.
We are being slut-shamed, objectified, body-shamed, sexualized, fetishized, and exploited. We are literally dying as I speak.
So our words can't wait any longer. Because we know that to speak the truth of our oppression and to demand respect and the right to self-determination are the only way to our full liberation.
Our silences will not protect us; they will tear us apart.
Instead we must stand united, support each other, and carry on our resistance.
Freedom will be our vision, solidarity our standpoint, our voices united our mean to dismantle discrimination.
Together we can demand:
– The end of the gender pay gap, and €14 minimum wage for all. But also to stop pretending that gender equality means having the same opportunity to live under wage slavery as men, or achieving the same authority that male CEOs, shareholders and employers have to commodify other human beings and destroy our land. We must dismantle economic exploitation altogether for women and men alike, and for the sake of nature too.
– For men to stop putting on us the responsibility of their abusing and sexualizing behavior. Because it is especially on them to take apart gendered expectations towards women, and to hold each other accountable for their sexist attitudes and toxic masculinity. They must renounce to and denounce machismo and rape culture.
– Equal representation in all public institutions in Leiden. Because the ridiculously high gender segregation in spaces like Leiden University, there especially STEM faculties, perpetrates the vicious cycle of our excursion from power. They use that power to knock us down, while they also unfairly blame us for failing at disproving gender roles. We must reclaim our space and recognize the importance of our participation in social, economic, and political decision-making.
– For women to wear, present ourselves, and treat our bodies however the hell we want without being judged or policed. Because we ought to be ourselves the one deciding whether body hair, headscarfs, tight dressed or androgyny are liberating, not pleasant, or empowering. And with this I mean to decide so for one self, never for other women. We must embrace heterogeneity of women's identities to really break free from the yoke of gender norms.
– A healthcare system that actually provides us with urgent and effective assistance. A system that doesn't label us hysterical, stressed, and paranoid whenever we go to our GP with serious complaints. A system that doesn't put us on infinite waiting lists when we're in desperate need of psychological support. Because to dismiss our problems and delay our treatment kill millions of us. We must be as loud as we need to, and expect to be listened to and believed, whether we're reporting rape, pointing out sexism, or expressing concerns about our health.
– And the list of course continues.
#Leidenvoor14 is commited to anti-sexism. And not just in a symbolic way: We understand that the specific struggle of women in the workplace is integral to our fight for increasing the minimum wage. Actually, we ought to make it central, as women receive 15% lower wages than their male counterparts.
#Leidenvoor14 wants to bring forward our specific concerns, and address sexism within the labor movement too. For that we initiated "Working Class Heroines", the first group for women and feminism at #Leidenvoor14. Our goal is to bring together the white and black, the Muslim, Catholic, Protestant, Jewish, Atheist, the LGBTQ+, and the migrant women of Leiden. We will do so by organizing safe spaces for women to come together and share their grievances, and by providing local communities with a support network and the tools to achieve our own liberation.
In this fight we don't stand alone, but we call on our allies to support our liberation, which is also their liberation. Because we can't obtain anti-racism, climate justice, labor rights, sexual freedom, and religious freedom without anti-sexism and feminism. Systems of exploitation intersect one another, and often originated in the same point in history. If we were to look back at our colonial past with lucidity and the strength one ought to have when finally facing one's demons, we would see that it was then that our current capitalist economic system and political order originated. How can we expect to be treated fairly and with respect when our current society is literally founded on slavery, imperialism, and white male supremacism.
For this reason our feminism can't be but decolonial, antiracist, anti-economic exploitation, anti-ableist, pro-migrants, and queer. Only this way the rising of the women will mean the rising of us all.
If women throughout history have burned, burned as witches, burned as workers in factories, burned by acid, burned inside by the indelible mark of abuse, today we carry those flames, and we burn too, but with rage, and with roses too.
Happy International Women's Day.
Marty