3 augustus, Den Haag: demonstratie ter herdenking van de IS-genocide op de jezidi's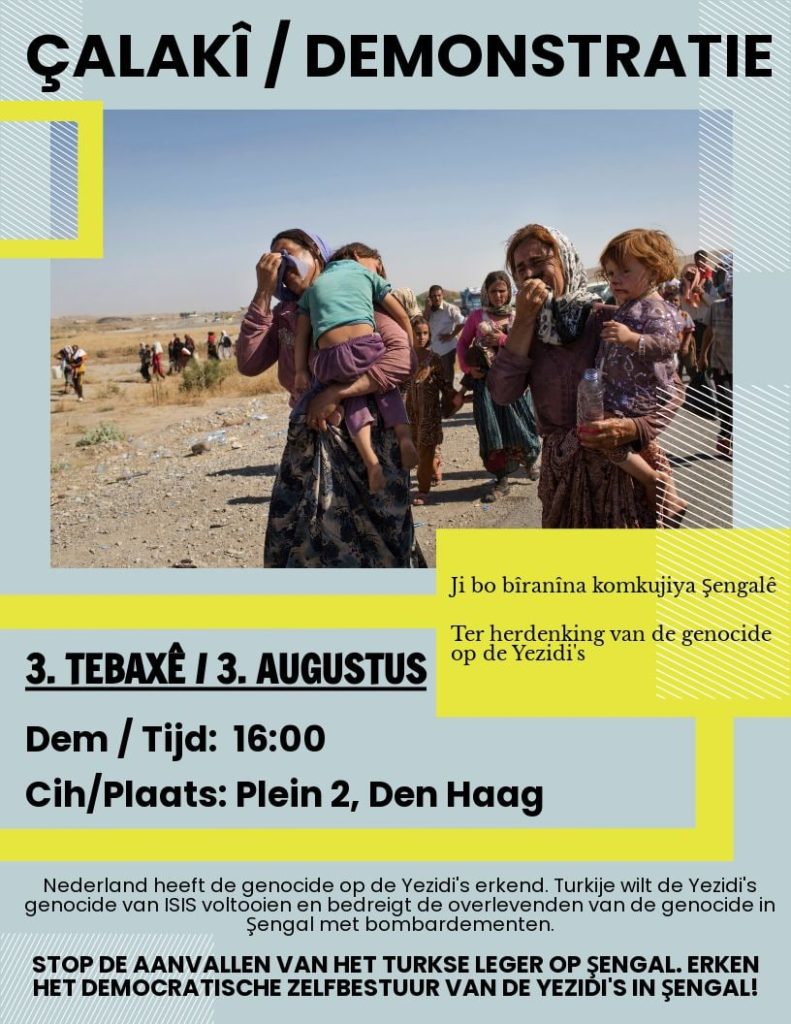 Morgen organiseert de Koerdische organisatie DemNed een demonstratie ter herdenking van de genocide op de jezidi's door de terreurbeweging Islamitische Staat (IS). Nederland heeft deze genocide weliswaar erkend, maar blijft ondertussen vriendschappelijke banden onderhouden met de Turkse dictator Erdoğan en zijn regime. Erdoğan wil de IS-genocide op de jezidi's voltooien. Zijn regime bedreigt de overlevenden van de genocide in Şengal, een stad in de Koerdische autonome regio in Noordwest-Irak, met bombardementen. "Stop de aanvallen van het Turkse leger op Şengal. Erken het democratische zelfbestuur van de jezidi's!", aldus DemNed. In het Turkse leger zitten veel Grijze Wolven, die jezidi's en andere Koerden voortdurend terroriseren.
De demonstratie op 3 augustus geeft gehoor aan de oproep van de jezidi-vrouwenorganisatie SMJE en de Koerdische vrouwenbeweging in Europa TJK-E. Deze organisaties hebben de onderstaande verklaring uitgegeven.
"Women's struggle and resistance prevent further genocides!
Today, 3 August 2021, we commemorate the victims of the femicide and genocide on the Ezidi people in the southern Kurdish Şengal region with grief and respect. Seven years ago, in August 2014, the Islamic State (ISIS) and its allies killed thousands of Ezidis in the cruellest and most brutal way within a few weeks. Over 7,000 women and children were abducted. Many of these women and girls were systematically raped and sold as slaves in specially established slave markets. To this day, 2,800 of them are still missing.
Dinsdag 3 augustus
Vanaf 16:00 uur
Plein 2, Den Haag
The Ezidi community of Şengal survived the genocidal attacks of ISIS in 2014 with great losses and is still being repeatedly targeted by the Turkish state in particular. The existence and freedom of the Ezidis is a thorn in the side of Erdogan and his imperialist agenda. This is clearly reflected in the current threats posed by the agreement negotiated in October 9th 2020 between the Iraqi government and the Kurdistan Regional Government (KRG). This agreement was also negotiated on the instructions of the USA and Turkey without the involvement of the Ezidi self-government and aims to destroy the self-administration and self-defence forces of the Ezidis in Şengal. Once again, the Ezidis are to be deprived of their right to self-determination in the interest of colonial aspirations. However, the Ezidis are actively resisting. Building their own grassroots democratic structures and defence forces is the response of the Ezidi people to the inhuman massacre of ISIS and the 74th genocide* and feminicide that continues to this day. We won't let ourselves be annihilated!
We are not going to allow our right to self-determination to be taken away from us as Ezidis. Building our own democratic self-administration structures and defence forces are the guarantee for the security and survival of the Ezidi community and culture. We alone can protect ourselves by showing solidarity with each other and becoming an organised force.
Especially as women, it is important that we unite and organise ourselves based on our own reality to fight against our oppression in all areas of life. We want a life without violence, self-determined and free. Therefore, we demand that the right of self-determination of the Ezidis be respected and recognised. It is time for a dignified life."
Harry Westerink
*De criteria die ten grondslag liggen aan het merkwaardig precieze aantal van 74 genocides zijn ons niet bekend. (red)