November 14th, online: Sudanese Refugees Organization hosts webinar on the plight of Sudanese refugees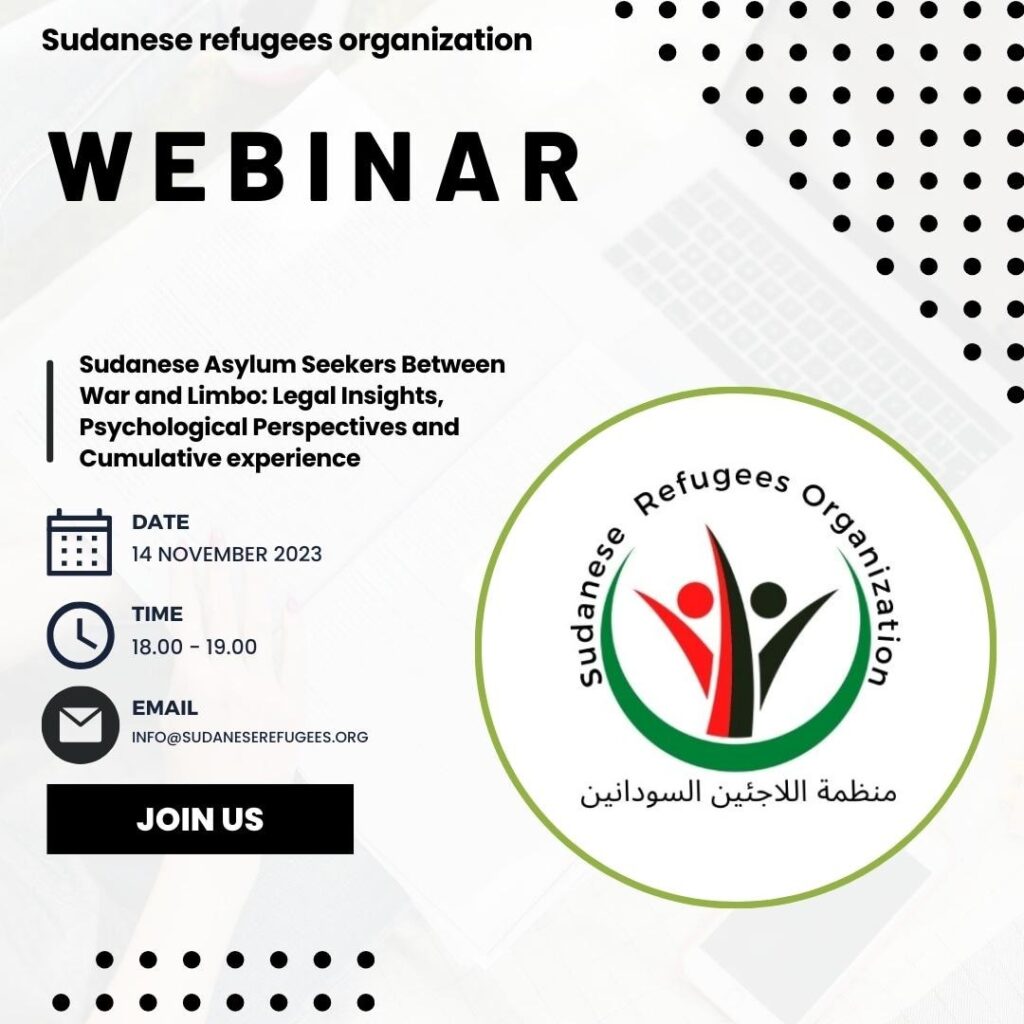 Today, on November 14th, the Sudanese Refugees Organization (SRO) is hosting a webinar, titled "Sudanese asylum seekers between war and limbo: legal insights, psychological perspectives and cumulative experience". The webinar will be held from 18:00 to 19:00.
From the call text: "The webinar aims to shed light on the long-standing moratorium decision on Sudanese asylum applications, the harsh effects of war on civilians, and the psychological impacts of prolonged uncertainty on Sudanese asylum seekers.
The Immigration and Naturalisation Service (IND) has maintained an ambivalent stance towards Sudanese asylum applications, citing unclear effects of the war on civilians. This comes despite warnings from international organizations about the dire humanitarian situation in Sudan, with thousands dead, millions displaced, and a nation inching closer to a breaking point.
Tuesday, November 14th
From 18:00 to 19:00
Online
This webinar is a call to action against the backdrop of increasing violence, human rights violations, and a humanitarian crisis that the UNHCR labels as one of the worst protection crises ever witnessed. It intends to confront the #IND_NL's inaction and draw attention to the psychological toll of the asylum limbo on Sudanese nationals, as evidenced by increasing reports of severe depression, panic disorders, and suicide attempts.
Join us in this important conversation to advocate for the rights of Sudanese asylum seekers, and to push for immediate and decisive action. Together, we can highlight the urgency of this crisis and call for a comprehensive reassessment of the current moratorium decision.
About the Sudanese Refugees Organization: the Sudanese Refugees Organization is a non-profit organization committed to advocating for the rights and wellbeing of Sudanese refugees. We strive to raise awareness and influence policy change to improve the lives of those affected by the ongoing conflict in Sudan.
To participate in the webinar on Google Meet, click: here, or open Google Meet and enter the code: qrb-qmtz-ioz.
Please note, Google Meet works best on Google Chrome, Mozilla Firefox, or Microsoft Edge. If you are joining on a mobile device, download Google Meet from Google Play or the iTunes Store. By joining, you agree to the terms of service and privacy policy."
Harry Westerink