Aindriú de Buitléir (We Want Woonruimte): "Where's the mass anger? Where's the protest?"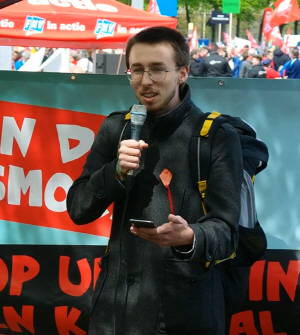 De Bond Precaire Woonvormen (BPW) en Doorbraak organiseerden dinsdag op de landelijke 1 mei-demonstratie van de FNV een eigen blok van baanlozen, flexwerkers en flexhuurders. De eerste speech bij onze kleine manifestatie vooraf kwam van Aindriú de Buitléir van We Want Woonruimte. Hij deed zijn verhaal in het Engels. Hier de video en de uitgeschreven tekst van zijn praatje.
My name is Aindriú de Buitléir and I'm here representing We Want Woonruimte, a housing action initiative which started in Utrecht. We were originally focused on the issue of student housing but as time has gone on, this has broadened out seeing as the problems of the housing crisis affect all layers of society, not just students. In Utrecht we're at the forefront of the struggle for housing, so it makes sense to organise around this issue.
In Utrecht, a university representative mentioned at a recent meeting that "this problem isn't going away any time soon". And he's dead right, the problem isn't going to go away – because the current setup of the housing market in Utrecht means that private developers are flocking in; building expensive new apartments, selling off social housing, and they are not focused on building affordable housing for students or for young workers.
(De tekst gaat verder onder de video.)
The for-profit housing market is failing students and working people. The reforms made by the Rutte cabinet since 2012 have financialized the housing sector and have dragged thousands of ordinary people down to the poverty line. In the Netherlands right now, over 1.4 million people are living below the poverty line.
So this idea that we're having some sort of a recovery in the market, the idea that things are getting better is nonsense – because ordinary people have not seen any of these profits that have been made over the last ten years. We are now ten years since the market crashed, and just last week the Rutte government approved a 1.4 billion euro tax break to multinational corporations – and you have to ask yourself, for young people – Where are the protests? Where is the mass anger? Where is the disappointment? It's not there – and this is problematic.
The current levels of construction and redevelopment, that we're seeing in Utrecht, means that by 2025, or so they say, the housing crisis is going to even out. So the market will set itself in order – the free market will sort itself out, with the private developers and we are told that we will have enough houses for all by 2025.
So what are we to do in the meantime? What we are presented with is a false dichotomy: continue living with your parents or pay forty percent of our income on rent?
But there is a third option here, and it is within each and every one of us, not just students and young people. That is: to take action, to organise and fight for a better system.
Problems
Housing is highly individualized, there is this sort of "sort it out yourself" mentality – if you don't find a house then it's your own problem, tough luck. What we are trying to do in Utrecht and in Eindhoven, is to turn this personal, individualized problem into a cause for collective action.
We are doing this through organising meetings, handing out flyers, by talking to students – and trying to build a new narrative of how the housing crisis should be solved. Not that it should be solved through private developers building new, expensive apartments. Not that it should be solved when universities are burying their heads in the sand.
But that it should be solved through the coming together of housing groups, left-wing organisations and the recently elected municipal govenernments, led by Groenlinks in Utrecht and Amsterdam – for them to come together and put forward a radical, social housing policy – because that is what is needed.
How do you solve a housing crisis? You build social housing. It's as simple as that.
In the Netherlands right now there is a national shortage of 47,000 houses. These are homes that need to be built if we are to alleviate some of the pressure off working people, young and old.
The situation we face coming into September is a worrying one to say the least (yeah, well shit is going to hit the fan in September). In Utrecht alone we have 12,000 shortage in of student housing, not enough new houses are being built and there are very few support networks to help students deal with what is to come. Students shouldn't have to sleep on couches or pay upwards of 600 euros per month for hostels, not while there are thousands upon thousands of buildings lying empty.
Moving forward, the three demands we have now are as follows:
1. No more insane rent prices – the rental commission point system must be enforced and backed up by municipal governments so that everyone pays a fair price.
2. No more homeless students, no more homeless while buildings stay empty – use empty office spaces and buildings to house students and those in need.
3. Shared responsibility – together the university, municipality and housing corporation must take immediate and active responsibility for affordable housing solutions.
This polder model can be a barrier to progress – this bureaucratic, neoliberal fallacy of national governments, municipalities, universities, housing corporations – how they continuously point the blame at each other for the housing crisis and drag their feet… we say that these organizations and institutions need to accept immediate and active responsibility for the housing crisis that they are effectively creating.
Now it is important that we continue to take action and build this up slowly as this kind of change is not going to happen overnight – we are not going to fix this in one year or five years, because first we have to start building up a consciousness among students and young people that we actually can affect change.
In Utrecht we have already won a small victory – from the two protests we organized, the university were so worried that they invited us to three separate meetings. What we effectively made them do was change the layout of their university webpage for housing. We collaborated and helped make the situation more transparent for incoming international students.
On the left in the Netherlands, small victories are worth celebrating and this is no exception. Even if this is only a website page we should be proud of this change. Small victories, small steps.
What we need to do now is build solidarity between different groups – we need to join together and fight for affordable housing for all. I believe this cannot be done by having dozens of separate groups spread out across the Netherlands, fighting their own separate battles. We need to come together on a national program to fight for affordable housing.
We can do this by organising strikes, by supporting workers that are on strike, like the bus workers today – and by organizing and participating in further actions such as this one today in Den Haag.
If anyone or any groups are interested in setting up their own housing initiative, or if they want to join us in our struggle – you should contact us on Facebook or speak with us during the demonstration.
Happy 1st May!
Aindriú de Buitléir