Social Impact Bonds: disciplinary system against people at the bottom of society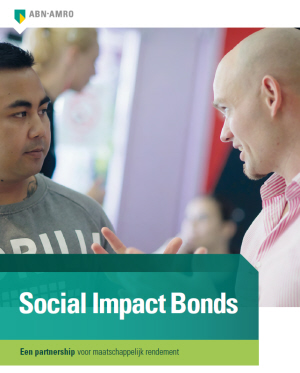 Are you jobless, on the dole, a drop-out, homeless, a refugee, seriously ill, a debtor or an ex-offender? If so, there is a good change that, during your debt assistance, integration or reintegration project, you will have to work for a bank, such as the Rabobank, a health ensurer such as CZ, or a subsidy fund, such as Oranje Fonds. And no, the financial returns do not go to you or to a common pool, but by way of the government to private capital owners. This process of so-called Social Impact Bonds is steadily on the rise. We have to fiercely resist this privatization, capitalization and the more far-reaching disciplining of impoverished people.
While researching the exploitation structure of Flextensie, we notice that the Rabobank Foundation, among others, is pre-financing in Zaandam. We do not really think about this until, at the end of January 2018, the municipality of Veldhoven announces a Social Impact Bond (SIB) with great fanfare: "Investors finance the integration of refugees". The Rabobank Foundation also appears to pre-finance this project. Refugees who are forced to integrate, have to run a specially designed "startup" almost completely by themselves. This construction is widely praised: "Very good, the business world is going to do what the retreating government omits …". D66 Minister of Social Affairs and Employment Wouter Koolmees also sees the benefits in these and other SIBs.
In March 2018, the municipality of Venlo announces that "fifty welfare people with a long distance to the labour market" will be 'helped' to get a job through a construction with the 'social' enterprise Rendiz. Of course, alarm bells are ringing with this announcement of a forced labour project and the mention of the Rabobank Foundation. And yes, there is that Impact Bond again.
What is a Social Impact Bond (SIB)?
An organisation 'gets' money from private investors (banks and funds), whether or not after a tendering procedure in which an entrepreneur thinks up the substantive part of a SIB. With this money, a local or national government project will be carried out, with an average term of two to five years and intended for people at the bottom of society. These are integration and reintegration programs.
The municipality or national government concludes a contract in advance with brokers or other intermediaries who in turn get investors to invest in such a project. A municipality or national government delivers the "target groups" to the executive organisation. Targets are also set, because results weigh heavily in a SIB. For example: ten welfare people have to get a job within three years.
A SIB is monitored and the result is tested by so-called independent assessors, such as scientists from a university, a research agency or whoever may do so. In this way, they want to prevent malicious practices and measure so-called "social impact".
If the goal is achieved, the borrowed capital with interest – from savings on benefits or other budgets – is repaid by the municipality or national government to the private investors. If a SIB fails and the result is not achieved, then the negligible risk lies with the investors.
SIBs are sold as "investing to solve a social problem". In addition to Social Impact Bonds, there are also Health Impact Bonds, Humanitarian Impact Bonds and Development Impact Bonds. Worldwide there are currently a few hundred of this type of Impact Bonds.
The Hague also ventures to the Impact Bonds. The Health Impact Bond (HIB) "Social Hospital" has been running there since 2017. This HIB is aimed at 'helping' 250 "multi-problem families" with their "problematic" debts. This Impact Bond is funded by health usurer CZ, who makes the investment to reduce the "health care consumption" and "support costs" of the households by focusing on "livelihood".
No cure, no pay
With Impact Bonds money is being invested by super rich banks, private and social funds (with or without ANBI status) and capital companies, such as CZ, in disciplinary projects for people at the bottom of society. The goals of the Impact Bonds are deliberately small; therefore the risks are as good as nil, and success is quickly achieved. It appears to be the construction for the local and national government to withdraw money from collective provisions and thus from the people who can claim ánd depend on those provisions. With Impact Bonds, the savings on, for example, an already severely cut-out benefit budget do not flow back to the municipal treasury, but to the investors. The revenues for the 'social' executors of the Impact Bonds will also not be bad. In addition, those companies or organisations also have to set up a project a bit nicely with jobs for additional supervisors, work supervisors, nonsense-coaches or, for example, a nice building to house the "target group" during the project.
"No cure, no pay" has long been customary in the still booming integration and reintegration industry. But the emphasis on measurable results is set to a higher level with Impact Bonds. Not only the result is evaluated, but also the way in which an SIB is set up and executed. This is monitored by so-called independent research parties such as the Erasmus University.
Back to the market
In the past, the government gave a lot of money directly to large and small reintegration companies. Private investors take responsibility for this within the SIB construction. After having achieved the result, the municipality pays money to the investors. It is pure profit for a municipality to allow investors to finance reintegration and other projects. The welfare-regime and repression remain in the hands of the local and national government. In first instance, the projects do not cost the municipalities a shit. Local governments and the state "unburden" themselves with this because they do not have to organize the integration and reintegration of poor people on their own. This is now being placed back more explicitly at market parties.
It is very likely that Impact Bonds will promote even more exploitative constructions. Within the SIB-system for unemployed persons wage-reducing measures are in practice, since the jobless are forced to work without pay and labour rights, in an attempt to find a job during a SIB project by gaining work experience through "apprenticeships", "internships", and so on. How easy can it be for the executors to ultimately achieve the intended result? By the end of a SIB project for jobless, arrange some temporary and poorly paid flex jobs at a bank, and voila: the goal is achieved and the profit is for the investors and the government.
Old wine in new bags
The list of Dutch Impact Bonds is growing (see overview below). Many municipalities and entrepreneurs are already working on Impact Bonds. Or they show extraordinary interest in these neo-liberal constructions, encouraged by national and European governments. And it seems that there is ample room for all wealthy people to become thoroughly involved with the lives of vulnerable, poor and powerless people. After all, investing money in marginalized groups (read: exploiting these groups together with the government) increases the social status of those investors. It will also feel very good for private investors, funds, companies and banks to keep up the appearance of being "socially responsible".
Social Impact Bonds and other Impact Bonds are being hailed as the way to tackle joblessness and poverty. But what is really changing for welfare recipients, jobless, debtors, ill people, refugees and others who have to participate in a SIB or HIB? Nothing, because the projects are the same as the existing integration and reintegration programs. People still have to learn to apply for jobs, take a course or follow a workshop and make tests to think about what their "dream job" or "dream enterprise" is. They have to learn to budget and learn to pay their bills on time. They have to learn the Dutch language and the assumed Dutch norms and values. They have to learn how to keep their jobs or how to get a new job. They have to learn what a "healthy lifestyle" is. Old wine in new bags, with money from private investors.
Within the construction of Impact Bonds people are categorized. The "target group" is analyzed as a "bussiness case" on risk and potential returns, but is still individually pressured to perform. This psychological pressure will increase, as Impact Bonds benefit more stakeholders when given a positive result. Participants must not only keep their case manager, work supervisor and other jobless exploiters happy, but also the investors. It is quite conceivable how current and future investors will put a substantive finger in the pie. They want their investment packages to be assured of a good outcome and have their own agenda, which almost always fits seamlessly with that of the far-right neo-liberal governments of the past years.
Bart de Baan
Puk Pent
Impact bonds in the Netherlands
1. Social Impact Bond: Buzinezzclub Rotterdam – jobless young people (2013)
– Start Foundation and ABN AMRO invest 680.000 euro in a project to kick 160 unemployed youngsters out of social benefits. The executor is the Buzinezzclub.
2. Social Impact Bond: Buzinezzclub Utrecht – jobless young people (2015)
– Oranje Fonds and ABN AMRO invest 2.100.000 euro to kick 380 to 540 youngsters between 18 and 30 years old out of social benefits. The executor is the Buzinezzclub.
3. Social Impact Bond: Werkplaats Rotterdam Zuid – social security recipients (2015)
– Fonds DBL invests 13.000.000 euro to kick 750 people out of social benefits. The executor was the public-private Werkplaats Rotterdam Zuid which was declared bankrupt in 2017. The current implementer is unknown.
4. Social Impact Bond: The Color Kitchen, Utrecht – unemployed youth / drop-outs (2015)
– Rabobank Foundation and the Start Foundation are investing 1.430.000 euro to kick 250 unemployed young people aged 17 to 35 out of social benefits. The executor is The Color Kitchen.
5. The first national Social Impact Bond: Work after Detention – jobless ex-prisoners (2016)
– Start Foundation, Oranjefonds and ABN AMRO Social Impact Fund jointly invest 1.200.000 euro to kick 150 jobless ex-detainees, who did more than three and less than twelve months time, out of social benefits. The executor is WorkWise Direct.
6. Social Impact Bond: Buzinezzclub Eindhoven – jobless / social assistance recipients (2016)
– Start Foundation, ABN AMRO Social Impact Fund and Buzinezzclub are jointly investing 1.700.000 euro to kick 300-360 young people in the municipality of Eindhoven out of the social benefits system. The executor is Buzinezzclub.
7. Social Impact Bond: Boas Werkt, Enschede – social security recipients (2016)
– Start Foundation, ABN AMRO Social Impact Fund and contractor BOAS Investing together invest 1.100.000 euro to kick 138 unemployed people out of the social benefits in the municipality of Enschede. The executor is BOAS Werkt.
8. Health Impact Bond: The Hague – Social Hospital-families (2017)
– Zorgverzekeraar CZ invests 4.750.000 euro to help "250 multi-problem families" in The Hague to solve their debts and to kick them out of social benefits. The executor is Social Hospital.
9. Health Impact Bond: Utrecht – cancer patients "reintegration" (2017)
– ABN AMRO Social Impact Fund and Start Foundation invest 640.000 euro to permanently reintegrate 140 working people with cancer into work and kick them out of social benefits. The executors are ArboNed and Re-turn.
10. Social Impact Bond: Veldhoven / IamNL – Beneficiary refugees (2017/18)
– The Fundatie van den Santheuvel-Sobbe and an unknown investor are investing more than 1.000.000 euro to kick 70 refugees in Veldhoven out of social benefits. The executors are IamNL and Regina Coeli.
11. Social Impact Bond: Venlo / Rendiz – welfare recipients (2018)
– Within two years 30 welfare people must be kicked out of social benefits. The Rabobank Foundation is an investor. The executor is Rendiz.
12. Social Impact Bond: Hengelo, Eindhoven, Enschede, Amsterdam, Utrecht, Leiden – Discipline Young Adults (2018)
– Initiators are Deloitte and the Netherlands Youth Institute. Executors are still unknown, tenders are running.