Yanick Monk at the Leiden #Klimaatalarm protest: "Police repression is a reality that we all must take action against"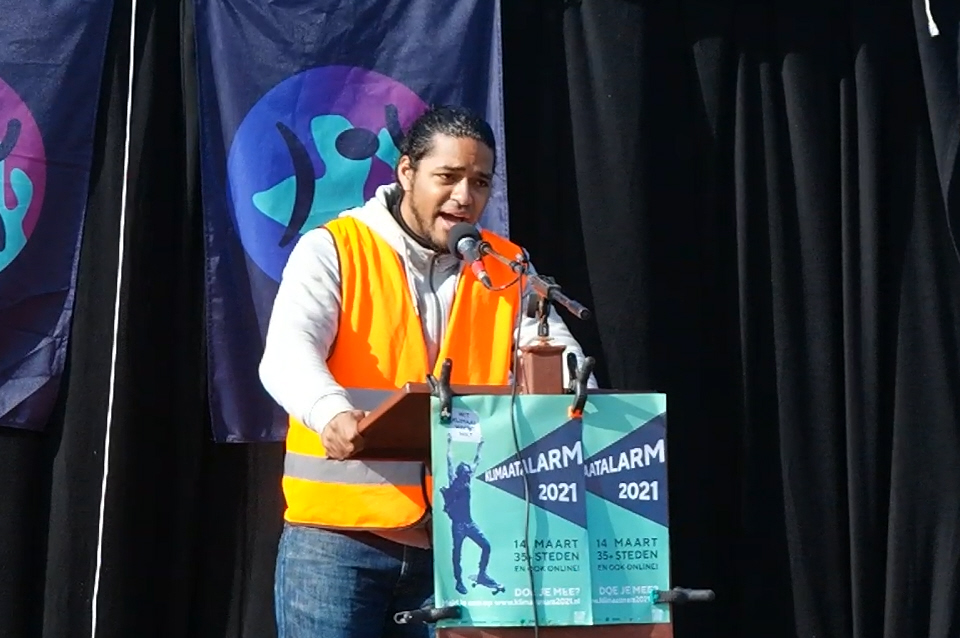 Yesterday there was a #Klimaatalarm protest in Leiden also. It was organised by the Leiden Climate Crisis Coalition, an action platform with Fridays For Future, Extinction Rebellion (XR), #Leidenvoor14 and the FNV union. The fourth speech was by Yanick Monk of #Leidenvoor14.
On this day last year, a black man named Tomy Holten died in a cell complex in Zwolle after being violently arrested by police in a supermarket. A video of the horrific scene was spread showing a cop pressing his shoe down on Holten's face as he lay on the ground.
This all took place following complaints that he was irritating other costumers. Apparently, a black man's life is so worthless in this society that he would have to pay for this with his life.
Tomy's death received little attention until footage of George Floyd's fatal arrest in the US led many into action with Black Lives Matter going viral.
This man died on our doorstep. It shouldn't take deaths across the Atlantic for us to wake up to racism and police violence disproportionately impacting black people here.
Police repression is a reality that we all must take action against.
It's black, radicalised, Muslim, and migrant people who are overly policed but it serves as a normalisation tactic that soon leads to all political activists, groups and actions over time. We cannot fight climate justice without the freedom to demonstrate, organise and speak up without risks of arrest and violence.
Now I'd like to invite you all to join me for a minute of silence as we commemorate one year since the merciless death of our brother Tomy.
Black Lives Matter!
I am a revolutionary!
Yanick Monk