14 februari, Leiden: landelijke actiedag "The university won't love you back"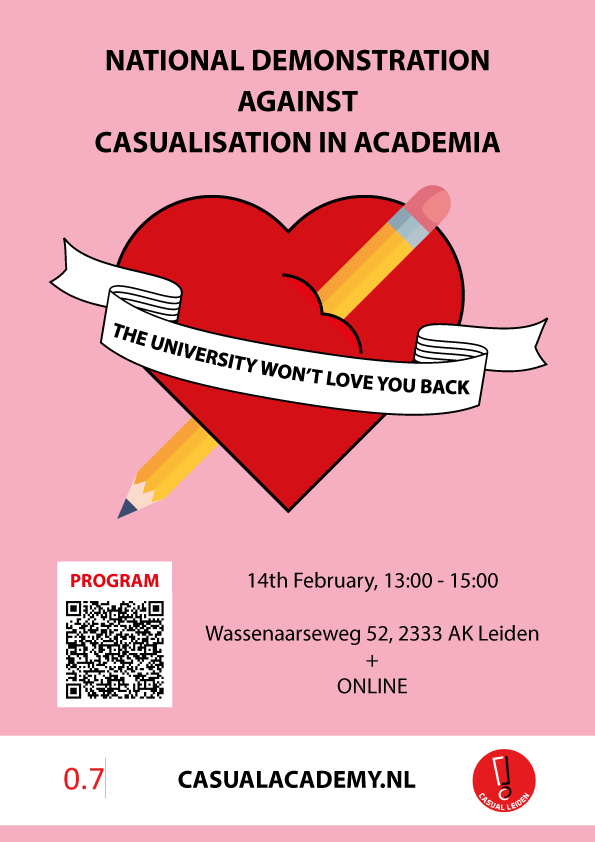 "Last term, Casual Leiden – alongside Casual Academy, 0.7, and WOinActie – participated in the 'Doomsday Clock' initiative. We gave the CvBs across the country one term to make good on their promise to address the plight of teachers in local negotiations. Unfortunately – but perhaps unsurprisingly – this did not happen. The clock ran out on 20th December and we published our pledge for action, which you can still fill in. This term, the intensification of action continues. This will be important both locally and nationally, as on the 1st April the current 'industrial peace' agreed nationally between the employers and the unions comes to an end. A new cycle of negotiations for the collective labour agreement will then start again. It is therefore vital that we build up the necessary pressure in the lead up to these talks to make sure employers do not, once again, shirk their responsibilities when it comes to questions of casualisation, workload, and social safety", aldus de oproep van Casual Leiden.
"The first date for the agenda in this process is the 14th February. On that day, Casual Leiden is participating in a national day of action, alongside the national networks Casual Academy, 0.7, and WOinActie, on the theme: The University Won't Love You Back. Program:
– Between 9:00-11:00 There will be a live-streamed discussion organised by Casual Utrecht and 0.7 in the morning (more details to follow).
– At 13:00, we will gather for a demonstration outside the Leiden Faculty of Social Sciences (Wassenaarseweg 52, 2333 AK Leiden) We will be joined by other Casual groups from around the country, activists from the Leiden department campaigns, WOinActie, and others.
Maandag 14 februari
Van 13:00 tot 15:00 uur
Buiten bij de Faculteit der Sociale Wetenschappen
Wassenaarseweg 52, Leiden
– At 15.30, the AOB is organising its annual AcademieKus award ceremony. This year the prize will be given out to an organisation that has led to a concrete increase in permanent contracts. The event will be live-streamed and you can register here. For those who prefer to watch the event collectively, you can join Casual Leiden in the Verbarium (Room 104 – Vrieshof 3) from 15:15."
Eric Krebbers