Decolonize everything – podcasts about decolonization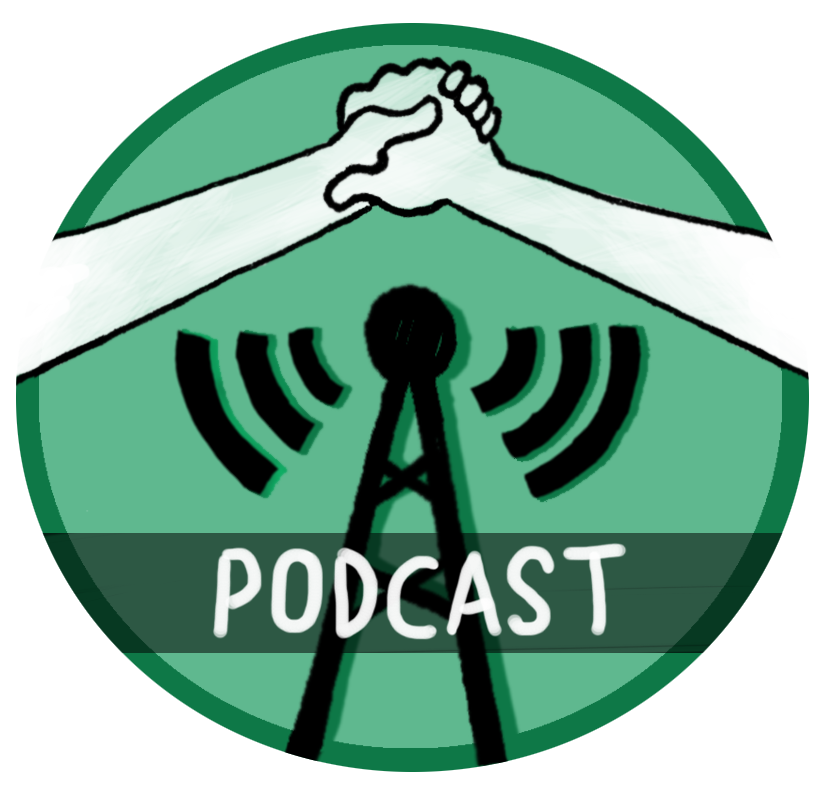 For this second edition of our podcast reviews, we, Petra and Ronja, listened to podcasts about decolonization. Decolonization is an important topic – even in the podcast world. We chose nine podcasts that we think are worth sharing with you. This time the selection consists mainly of interesting conversations with fascinating perspectives on decolonization. Listening to the podcasts, we became aware once again that colonialism is still visible and tangible in language, music, education and even our love lives.
We have divided the nine podcasts into three blocks: block 1 – Decolonization for beginners, block 2 – Sex and relationships, block 3 – Education and research. What exactly the podcasts are about and what we think of them, we are happy to share with.
De originele tekst in het Nederlands.
1. Decolonization for beginners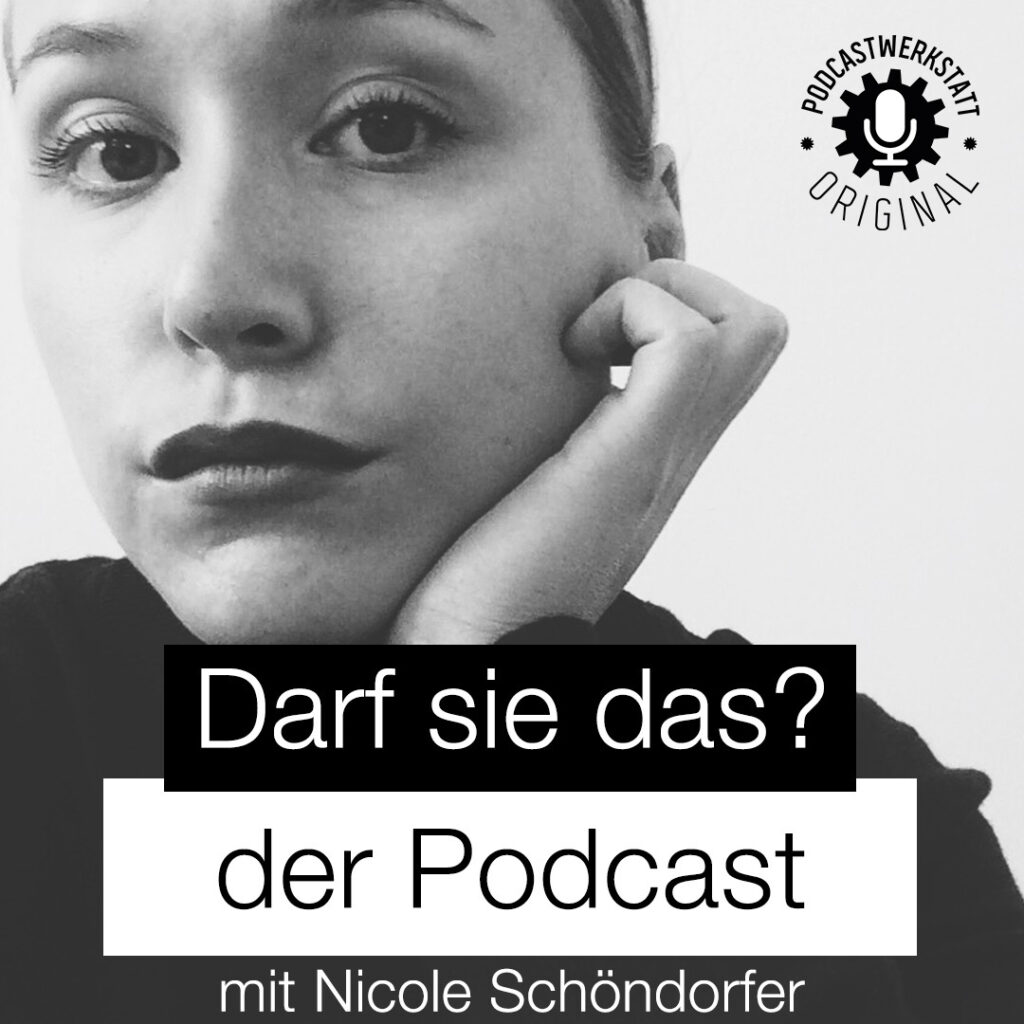 Darf sie das?
Short: Gewaltlose Dekolonisierung gibt es nicht, about decolonization and the role of violence, 0:29h, German, no transcript.
The creators
Austrian podcaster and journalist Nicole Schöndorfer describes herself as a woman, feminist and communist. She discusses various topics in her weekly podcast Darf sie das? with feminism being a common thread.
What is it about?
In the episode Gewaltlose Dekolonisierung gibt es nicht, Nicole explains what decolonization means according to her. In doing so, she agrees with Frantz Fanon that decolonization cannot be nonviolent. Frantz Fanon was a well-known psychiatrist and writer. In 1961 he wrote the book "Les damnés de la terre" (or in Dutch "De verworpenen der aarde"). In this book he describes the various stages of the struggle eto break free from the colonial powers. According to Fanon, the road to independence is inevitably violent. As it is a reaction to the violence of the colonial rulers. Decolonization creates a new human being who needs independence to live. According to Nicole, reading Fanon's work is part of your own process of decolonization.
What do we think?
Actually, this podcast episode has three parts: first an introduction with an announcement for another podcast, then a detailed introduction to the book "The Rejected of the Earth" and finally question time. Question time appears to be a regular part of Darf sie das? During this question time, Nicole goes over the reactions and questions she has received from her listeners. This, I think, makes it very enjoyable for regular listeners. As an occasional listener, however, it took some time for me to get used to it, as I was flung from one fascinating topic to another.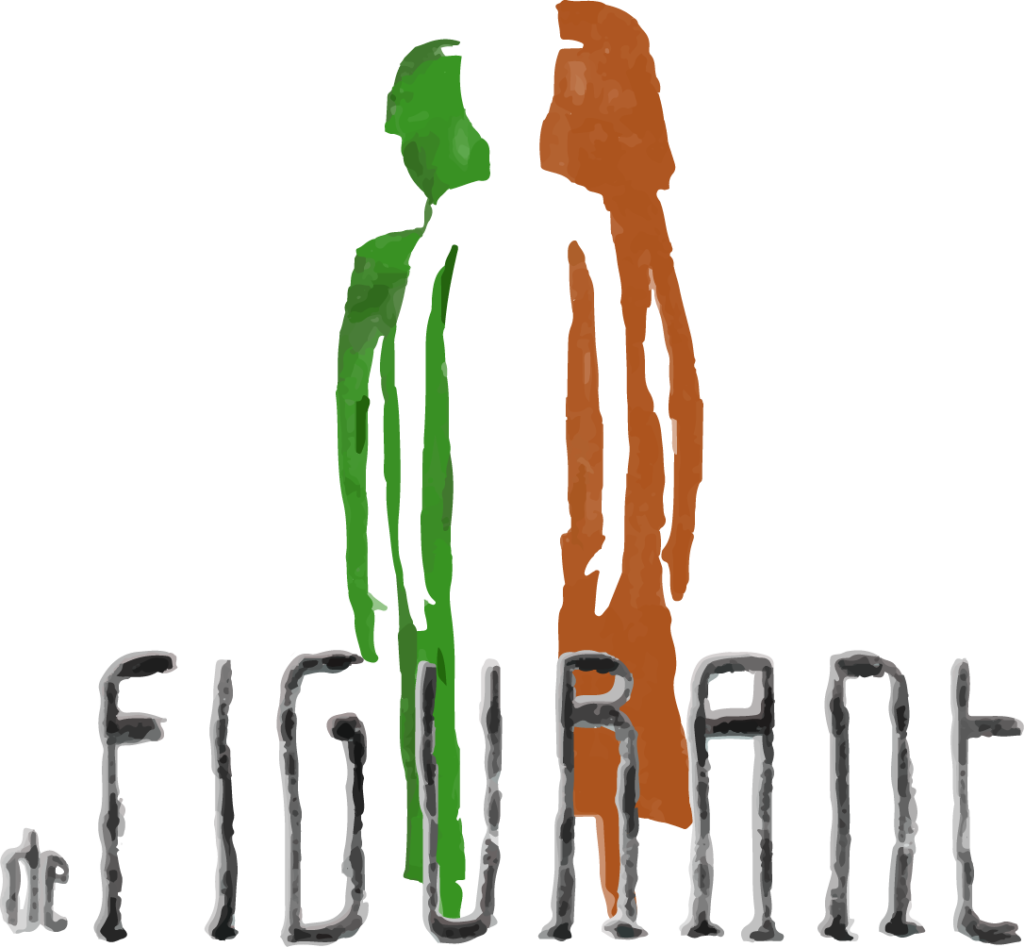 De Figurant
Short: Geschiedenis van de anti-racisme beweging, interview about the history of the anti-racism movement in the Netherlands, 0:29h, Dutch, also available as video, no transcript.
The creators
The online talk show De Figurant is produced by Zaaigrond Film Productions. They produce creative, social documentaries. In their words, the program is for people missing a critical perspective in the mainstream media.
What is it about?
In the episode Geschiedenis van de anti-racisme beweging, Mathijs van de Sande interviews the activists Andre Reeder and Mitchell Esajas. They will take you on a tour through the troubled history of the anti-racist movement. What began as a struggle against the colonial oppressors continued as a struggle against racism in the Netherlands.
Andre Reeder was an activist at Landelijk Overleg van Surinaamse Organisaties in Nederland (LOSON) and later was involved in Strange Fruit, a collective of LGBT teenagers with a migration background. Mitchell Esajas is the co-founder of New Urban Collective and the Black Archives.
Both know a lot about the subject. During the interview many names and actions are mentioned. For example, Andre and Mitchell talk about the squatting actions in the seventies, when about a hundred families squatted empty flats in the Bijlmer. This was caused by the enormous shortage of housing for people who had come to the Netherlands from Suriname.
What do we think?
I was listening to this episode with great interest. It offers a brief insight in the history of the fight against racism in the Netherlands. Many of those stories disappeared, the organizations often no longer exist. I am glad that these stories are being told again.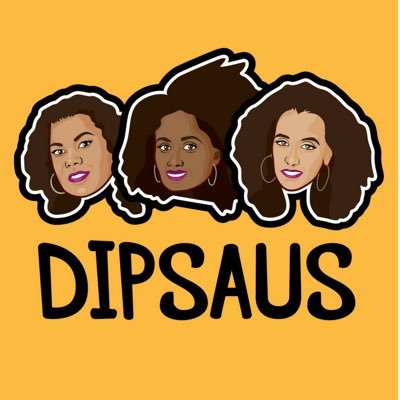 Dipsaus/WORM Rotterdam
Short: The Sound of Protest, three episodes about protest in the Netherlands by WORM Rotterdam and Dipsaus, 27:43h / 24:34h / 27:17h, English, no transcript.
The creators
Mariam el Maslouhi is the maker and presenter of this mini-series. She is podcast maker (one of the founders of Dipsaus) and activist and has a passion for storytelling.
What is it about?
The three-part series The Sound of Protest deals with the history of protest in the Netherlands, based on the personal experiences of the maker and her guests.
What do we think?
For this article, I only listened to the first episode of the mini-series. In it, Mariam talks to her sister Naima about, among other things, her very first protest ever, the demonstration against the war in Iraq in 2003. I really enjoyed listening to this because it was also one of my first protests.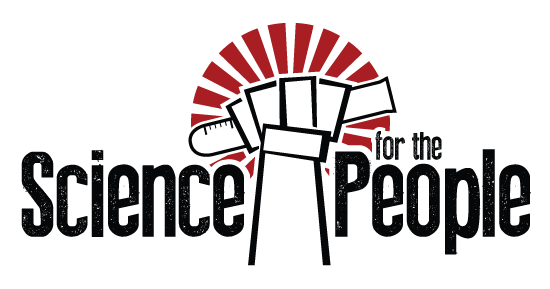 Science for the People
Short: Decolonizing Colonization, a podcast about podcasts by and for indigenous people and how decolonization can help prevent mistakes in the future, 1h, English, no transcript.
The creators
The podcast Science for the People is all about linking science, popular culture, and history. By doing so, the creators hope to understand the backgrounds of recent political events. To do this, they interview researchers, writers, authors, journalists, and experts to talk about science from the past, science that affects our lives today, and science that could change our future.
What is it about?
Colonial history and the ideas behind decolonization are the topic of the episode Decolonizing Colonization. Ryan McMahon talks about what reconciliation and decolonization mean today and why they are efforts that is still ahead of us. Ryan is the founder of Indian & Cowboy, a media network of and by indigenous people primarily from Canada. Emily Finke, Celia Yost and Cassandra Phoenix talk in a panel discussion about how we can learn lessons from our colonial past so that we don't repeat the same mistakes in the future.
What do we think?
Just awesome! I'm definitely going to listen to more podcasts from Indian & Cowboy Network. I did feel like I was listening to two different episodes in one. First the interview with Ryan and then a panel discussion about ethics surrounding space travel and colonizing other (uninhabited) planets. As a science fiction fan, I really enjoyed this last part.
2. Sex and relationships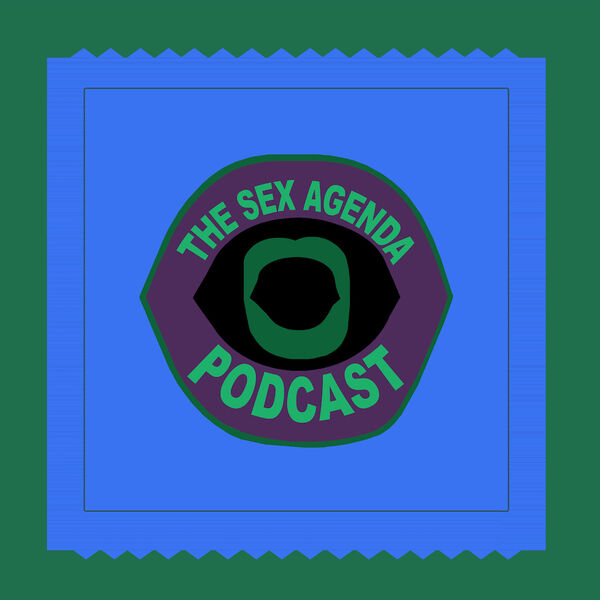 The Sex Agenda Podcast
Short: Sex Work, Healing Justice & Collective Action, talk about sex work, self-defense and much more, 56:57h, English, no transcript.
The creators
The Sex Agenda Podcast is created and presented by Dr Annabel Sowmimo and Edem Ntumy, two co-founders of Decolonising Contraception, a UK non-profit organization founded by black and poc people working in the field of sexual and reproductive health.
What is it about?
The episode Sex Work, Healing Justice & Collective Action consists of an inspiring conversation with Black Venus, sex worker, performer and founder of Sex and Rage. The conversation touches on self-defense as a way to heal and build communities, misconceptions regarding sex work, and why the "Swedish model" doesn't work for sex workers. They also talk about the intention of content-sharing website OnlyFans to ban sex workers from their platform, which caused a storm of protest. After which OnlyFans announced it would not continue with the ban on sexual content.
What do we think?
Pleasant to listen to, much more of a good conversation than an interview, very broad in topics, informative. I personally have no interest whatsoever in "martial arts". However, this podcast gives a different kind of perspective on it. It highlights the therapeutic effect that sex workers and queer people in particular experience according to Black Venus, in part because of what you learn about your own body. I associated martial arts with (male) aggression. Black Venus says martial art is also about removing yourself from a situation. It is therefore a much broader concept than I had previously assumed.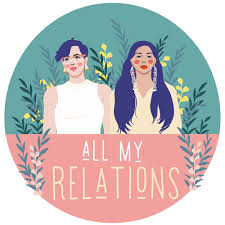 All My Relations
Short: Decolonizing Sex, about maintaining good relationships and about questioning hierarchies within relationships, 43:24h, English, transcript.
The creators
The podcast All My Relations is created by Matika Wilbur (Swinomish and Tulalip) and Adrienne Keen (Cherokee). Matika is a photographer and documents Indian Country throughout the US. Adrienne Keen is an activist concerned with the portrayal of Native Americans in fashion, film, music and other forms of popular culture. She runs a blog called Native Appropriations.
What is it about?
The episode Decolonizing Sex consists of a conversation with Dr. Kim Tallbear (Sisseton Wahpeton Oyate), professor at the University of Alberta Faculty of Native Studies. The conversation is about critical polyamory (also known as ethical non-monogamy). Kim started a blog on this topic after discovering that the mainstream polyamory world has incredibly colonial mindsets and that conversations about polyamory and relationships are often limited to questions like "How do I set up my Google Calendar so that I can spend enough time with all my loved ones?". There is talk of normativity when it comes to relationships; just the term "ethical non-monogamy" shows that monogamy is the norm and that anything that deviates from this is considered unethical by default.
What do we think?
Super interesting to unpack the usual view of love, sex and relationships and make it clear what things stem from colonial ways of thinking and patterns. Especially the ubiquity of hierarchies sticks in my mind. The part of the conversation about the inadequacy of language was also very valuable. Don't skip this one!
3. Education and research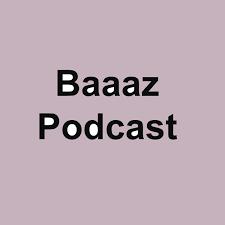 BAAAZ
Short: Nawal Mustafa en Zouhair Hammana | Dekolonisatie, talk about intimate relationships and decolonization and about decolonizing education, 0:47h, Dutch, no transcript.
The creators
BAAAZ, in Moroccan an expression of amazement, is a podcast by Fouzia Outmany, Jamila Faloun and Nora Ledrhem.
What is it about?
In this episode on decolonization, Nora Ledrhem talks to Nawal Mustafa and Zouhair Hammana about what decolonization means and why it is important for us to deal with it. Nawal talks about her research on intimate relationships in the 1950s to 1970s in England. She adopts the rarely adopted perspective of a non-white woman in her research. Zouhair's research focuses on education, exploring how a decolonized education can be shaped. The conversation between Nora, Nawal and Zouhair focuses on the question of who should give space. For example, Zouhair indicated that in current education, the central perspective is still the West. Although non-Western persons and events have been added to the curriculum, this is always an extra. The question remains, for example, what historic(al) persons/figures should disappear from school books. And not only there, but also from educational institutions and other places in society (dedicated to the remembrance of those individuals). The speakers agree that making room for a different perspective cannot go on without friction.
What do we think?
This episode ties in nicely with the previously podcasts about how decolonization cannot be done without violence and how colonialism is present even in intimate relationships.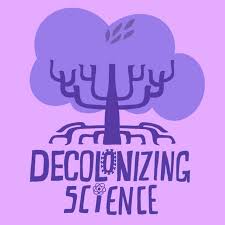 Decolonizing Science
Short: The Ecology of Racism, over (stads)ecologie en racisme, 48:52h, English, no transcript.
The creators
The podcast Decolonizing Science is created by Ashley Paynter, a biologist, whose organization and podcast seek to bridge the gap between activism and science through science education for disadvantaged communities and ordinary people. The podcast is dedicated to all black people who have died, been misdiagnosed, or denied treatment and recognition at the hands of racist and biased doctors.
What is it about?
The episode The Ecology of Racism consists of a conversation with Chris Schell, a university professor whose research interests include the ecological impact of racism on urban environments. The conversation covers racism in land use planning, what wildlife can tell us about the health of human populations, and how black people are kept out of conversations about climate change.
What do we think?
This podcast was one of my favorites among the podcasts I listened to for this article. There is a lot to say about the intersection between (urban) ecology and racism. Consider, for example, the difference in green space between poorer neighborhoods where many black/poc people live and richer neighborhoods where mostly white people live, or the artificial (and colonial) distinction between " human beings" and "nature." This podcast provides sometimes surprising insights, for example, the hand in hand of tick-borne diseases and gentrification (and the hows and whys of it). Absolutely recommended!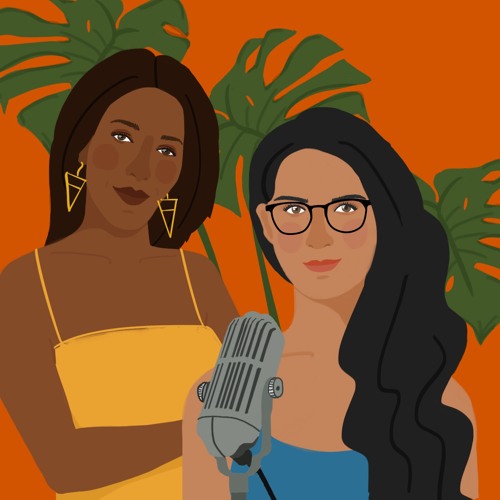 Vocal about it
Short: Vocal about decolonizing the classroom, about the presence of colonialism in the classroom, 44:56h, English, no transcript.
The creators
The podcast Vocal about it was created by Sara Hassan and Sarah Jordão.
What is it about?
The episode Vocal about decolonizing the classroom consists of a conversation with Nozizwe Dube, a law student who spent half her life in Zimbabwe. Together with Nozizwe, a comparison is made of how race plays a role in schools in Zimbabwe, France and Austria. Nozizwe shares personal experiences and insights about the importance of decolonizing universities, and what it actually takes to do so. At the university where Nozizwe studies (Leuven), there are no/barely any black or poc professors. She talks about the extent to which existing institutions, such as the UN, for example, are not questioned further during International Law classes and how "rule of law" is always referred to, even though it apparently did not apply to colonized people.
What do we think?
Fine podcast, informal conversations, pleasant mutual communication. Lots of personal experiences.
Also interesting
If you still want to listen to more, then the following two podcasts are highly recommended:
Cerita Cisca, a 10-part podcast about the life of Cisca Pattipilohy, who looks back at different periods in her life – from a semi-feudal culture to a bourgeois culture in Batavia, colonial society, the independent state and, in 1968, the transition from Indonesia to the Netherlands.
De Verbranders, podcast about migrants, activists and the colonial origins of borders.
Have fun listening!
Petra & Ronja
If you know of any other good podcasts about mutual aid, let us know in a comment or via doorbraak@doorbraak.eu.
Would you like to write something about podcasts from time to time? Then contact us at doorbraak@doorbraak.eu.