NTR children's tv will still be racist!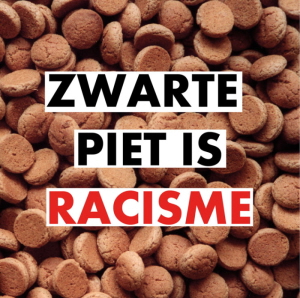 In 2016 Doorbraak activist Jennifer van Leijen initiated a campaign to stop the Dutch government from subsidizing blackface (Zwarte Piet or Black Pete) on children's television. More than 12.000 people already signed. Van Leijen regularly writes updates. Here is number 20 (also read numbers 1, 2, 3, 4, 5, 6/7, 8, 9, 10, 11, 12, 13, 14, 15, 16, 17, 18 and 19).
Normally the NTR doesn't say what will occur in their television series but this year the NTR have revealed that their own actors will wear various gradations of soot smears. The NTR explained that volunteers from local "Sinterklaas Welcome Parade" organisations will appear alongside their own actors, both during the public parade (called the "nationale Sinterklaasintocht") and in the "Sinterklaasjournaal" television series. These volunteers will wear brown face-paint instead of black, cease to wear golden-hooped earrings as in previous years, or wear fat lips!
These minor changes, however, don't stop these characters being racist caricatures. One of the organisations, the Stichting Sinterklaascomité Zaanstad, wrote on their website that they were making these changes to "keep up with the times, at their own pace." It's a vague meaningless statement, which fails to acknowledge racism, and references to the slavery within Dutch colonial history. The decision to use brown facepaint doesn't make sense either if it's supposed to represent soot.
Why is the NTR keeping the racist caricature? According to their own admission, the NTR wants to keep the Dutch majority satisfied. One can only conclude that NTR decision-making is of dire quality. The human rights of a minority should never be violated merely because a majority want it. A majority can be wrong, after all; nazi Germany is evidence of that. Moreover, in matters concerning children, such as this one, the interests of children should always be of primary consideration. As racism is never in the interests of children, the NTR should have abandoned their racist formula. The NTR, a public body established by the Media Act, has a duty to advance social cohesion. And to educate schoolchildren on racist stereotypes and educate children to be critical of the material that they are presented with. The NTR does the opposite.
It's tragic when a media company patently does not have the talent and imagination to create a tv Sinterklaas story capable of promoting unity amongst people with differing skin colours. For this Dutch tradition involves a fiction. The head of Diversity at the NTR, Frans Jennekens, described Sinterklaas as a "commercial concoction that generates millions". In an interview in 2013 Jennekens described the NTR as the "propoganda institute of Sinterklaas".
The NTR makes a conscious decision to maintain the racist status quo and in doing so treats the dark-skinned minority within Dutch society with contempt. The NTR's complete lack of responsibility towards the entire Dutch public, a public which the NTR is meant to serve, renders the NTR unworthy of it's tasks. And this Dutch government, which let this continue, is not worthy of being social leaders.
Jennifer van Leijen