Second update on the campaign against the Dutch government subsidizing blackface on children's television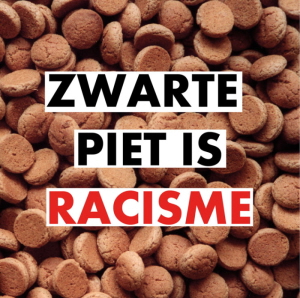 Doorbraak activst Jennifer van Leijen recently initiated a campaign to stop the Dutch government from subsidizing blackface (Zwarte Piet or Black Pete) on children's television. Thousand people already signed. Van Leijen regularly writes updates. Here's the second batch. (Read the first here.)
We have more than a thousand signatures, from people who care. But we know from the struggle for workers rights, for political rights, for womens rights, that these rights are not honoured by the establishment, merely because we ask nicely or have presented valid arguments. Change has always required struggle. We will need to protest and to take active steps to change things. The government will only change things when we show that WE will not tolerate it. It means doing things like protesting at a Sinterklaas welcome parade near you, contacting shops and telling them not to stock products featuring the racist caricature, contacting the parent-teachers association of your children. It also involves positive things, like giving positive feedback to shops and producers that have abandoned the racist caricatures.
I will continue to collect signatures, especially as I am aware that there are a large quantity of pro-racist caricature people reading this (if you are pro-Zwarte Piet/pro-Black Pete, you are undeniably supporting a racist caricature.) A human rights lawyer writes "Meanwhile, there is evidence that what is meant to be a children's holiday is negatively affecting the country's young people. Should the Dutch government then not act to remedy this?" Of course they should. And they can start by stopping subsidising the NTR that make this influential racist children's television series. They are not neutral bystanders in this matter of racism, but the Dutch government are, as subsidizers of the NTR, active proliferators of it….
Drop the caricature
You may ask yourself: why are the Dutch loath to drop the racist caricature? Isn't the Sinterklaas figure enough to continue this tradition? The answer is that the Dutch are hooked on the racist double act. The racist contrast creates the entertainment value: the black buffoon emphasises the wisdom and natural leadership of the white man, and vice versa. Without the other, the story doesn't work. The Dutch need to invent a whole new story – and that's what they're unwilling, in the name of tradition, to do. Benny Hill once made sexist television, and even though it was very popular, his show was cancelled. Ahead of it's time, the television companies needed to accept responsibility toward their public. We now live in a world where people who boast about sexist behaviour with women are rightly condemned for that behaviour. It's time the Dutch government establishment rightly condemn this racism, instead of subsidising it.
All the people who have signed, have made their complaint about the government subsidizing the NTR clear: there should be no government subsidy for the making of racist childrens television! This petition will be presented to the chairmain of the second chamber of the Dutch parliament, who will receive it on behalf of the minister of Education, Culture and Science: Jet Bussemaker. The minister of Education, Culture and Science is the appropriate person to address because she is ultimately responsible for the blackfacing in education, and for the subsidy to the NTR – the television company that makes racist childrens television using blackfacing. The NTR have a legal task, enshrined by law, to provide education and information in the fields of culture, youth, and diversity. The Childrens Ombudsman will be asked, if the government don't respond to our petition, to intervene. The Children's Ombudsman have assured me that individual complaints will be handled, if it involves the violation of childrens rights by a governemnt organisation, private or public body.
Human rights
The Netherlands have an image which they don't deserve, because the Dutch government do NOT take children's and human rights seriously. This blackfacing occurs in the Hague (where various United Nations institutions are based, as well as in cities like Utrecht and Amsterdam, both which proclaim themsleves "human rights cities". Utrecht and Amsterdam have no right to call themselves human rights cities or cities of Childrens Rights (which Utrecht also calls itself), when they knowingly and intentionally discriminate against black children and adults. If you are part of a human rights organisation, ask your Dutch colleagues/counterparts to address this racism. We have a responsibility to do something.
Jennifer van Leijen