Sudan updates – Terrorists in the new Sovereign Council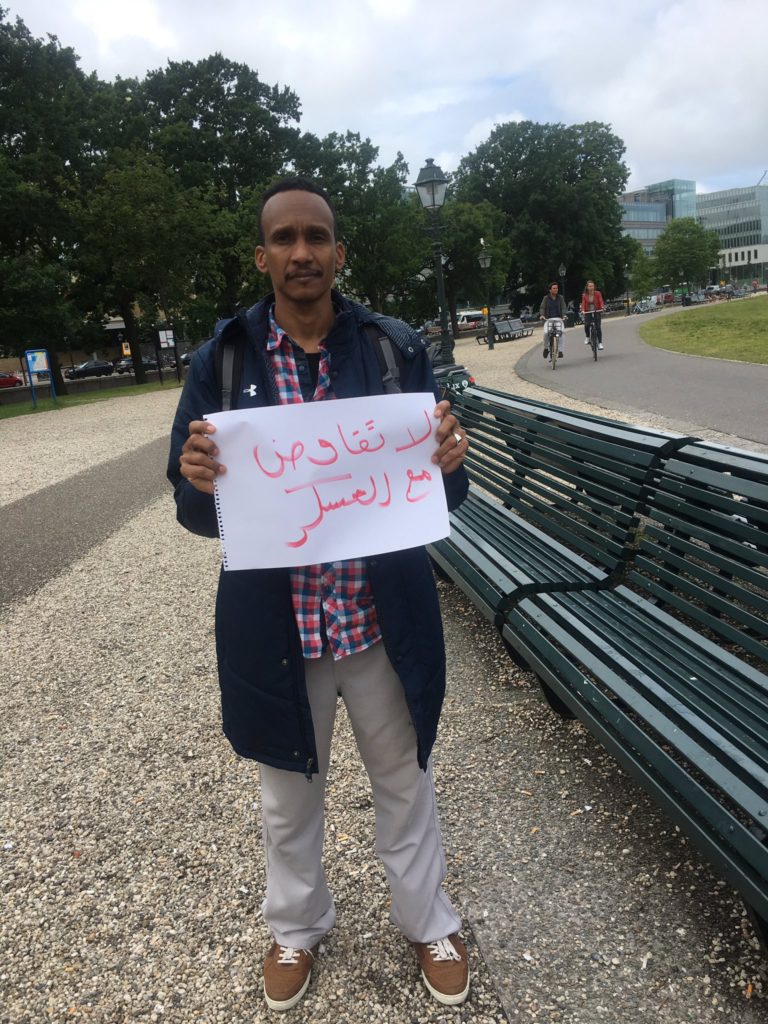 For us as undocumented, illegalized refugees it's important that activists, leftist politicians, lawyers, judges and others who care about justice have a good understanding of what's happening in our countries of origin. I truly believe that a better understanding can lead to more solidarity, changed policies, better legal representation and residence permits. By writing these short columns with updates about the situation in Sudan, I hope to contribute to this.
On Wednesday August 21, the members of Sudan's Sovereign Council and our new prime minister were sworn in. The start of this new council meant the end of the military council. The military council is the council that took power after we pushed out our former president and leading terrorist Omar al-Bashir. The Sovereign Council has 11 members and it consists of civilians and people from the Sudanese military. One fact that makes this council revolutionary, is that for the first time in the history of our country two women are part of Sudan's highest ruling body. Their names are Ayesha Musa Saeed and Raja Nicola Issa Abdul-Masseh.
This text was translated from Arabic, and is also available in Dutch.
What makes many of us afraid of what will happen next, and I am among those who are fearful, are two other people on the council: Abdel Fattah al-Burhan and Mohamed Hamdan Dagalo (also known as Hemedti). Al-Burhan was also the head of the former military council and he is one of ex-president Omar al-Bashir's right-hand men. The two bonded over their lust for mass killings and other war crimes. Also, we have seen how this military council shut down protests. The blood of the June 3 massacre and the many, many other people who lost their lives in the last weeks is on their hands.
The other key figure in our fears is Mohamed Hamdan Dagalo. He's also known as Hemedti. When non-Arabic media writes his name, they sometimes write it as Himiti, Hemetii, or Hemeti. Different spelling, same mass murderer. Hemedti is the head of the Rapid Support Forces and he was one of the leaders of the janjaweed. Most people who know or at least have heard of the janjaweed, know them from the genocide in Darfur. The janjaweed were the killers. Hemedti was one of the top people by the genocide and now he's part of the new Sovereign Council. He's also considered to be the most powerful man in Sudan because he has a lot of money and he spends most of it on recruiting soldiers.
The plan is that the Sovereign Council runs Sudan for the next 39 months. For the first 21 months general Abdel Fattah al-Burhan will be in charge. After him, a civilian leader will be the head for the last 18 months. Our new prime minister for this transitional government is Abdalla Hamdok, a well-known economist.
I am one of many people who have no faith in Al-Burhan as the head of this council. We also fear what Hemedti's next moves will be. He's a mass killer, a rapist and a war lord. In June, the researcher Rashid Abdi and reporter Yousra Elbagir wrote about a source that informed them that members of the military council felt like Hemedti was out of control, he can't be reasoned with and that they wanted him to step down. People from his own council said this! Why is this terrorist still in charge of our country? What will Hemedti do when people try to take his power away from him? Probably the same he has been doing since he was put in power: kill and terrorize.
With regards to the Dutch asylum policy, what I want to know is this: when will the Netherlands change their "landenbericht" (country information with regards to Sudan)? This is the document immigration services and judges use to decide if a refugee gets their residence permit or if they want to send them back to their country of origin. Why doesn't the fact that Hemedti and Al-Burhan have been terrorizing Sudan for months now change this "landenbericht"? Why don't the reports from Amnesty about deportations to Sudan change this "landenbericht"? How many lives must be ruined before this document properly represents the realities of life in Sudan?
Let's focus on the Netherlands. What can you do as someone who wants to stand in solidarity with the Sudanese diaspora in general and undocumented Sudanese refugees in particular?
1. When there's a next demonstration, help us spread the information. If you are able to physically join us, please try to bring two people with you.
2. Share this information about Sudan with the politicians you trust and have faith in. We need politicians to ask formal questions about this "landenbericht". When you do, please add the hashtags #UndocumentedNL and #LandenberichtSudan to your message. That way, we can easily find your messages of support. Maybe people can use them when they're in court fighting for their residence permit and they want to prove that the demand to change this "landenbericht" is not just theirs.
Walid Ahmed