Come to protest in Dokkum this Saturday against live televised blackface show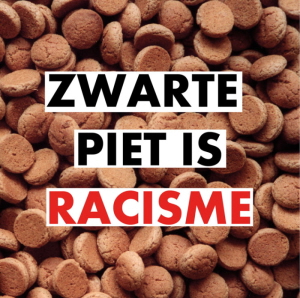 Last year Doorbraak activist Jennifer van Leijen initiated a campaign to stop the Dutch government from subsidizing blackface (Zwarte Piet or Black Pete) on children's television. Almost 10.000 people already signed. Van Leijen regularly writes updates. Here is number 9 (also read numbers 1, 2, 3, 4, 5, 6/7 and 8).
There will be an important protest occurring this Saturday in Dokkum. If you are in the Netherlands, it would a valuable opportunity to exercise your civil rights in a peaceful protest against a live blackface event which will be televised live on Saturday 18th November. The actors from the racist blackface children's television show shall appear in Dokkum, a village in the Netherlands. Children from all corners of the Netherlands will visit Dokkum to see the characters from the racist children's television show, Sinterklaasjournaal.
School boards from all over the country relegate responsibility towards their pupils in regard to the racist image of Zwarte Piet, by leaving it to this television programme to decide. The NTR who make the Sinterklaasjournaal reality-style show claim to merely reflect the wishes of Dutch society (so both parties don't take responsibility).
This has lead to the scandalous situation that there are blackface dolls hanging on walls in the village of Dokkum. This is highly insensitive, considering the history of lynching, but nobody in local or national government has condemned it. On Facebook, a popular meme is to tell people to leave the Netherlands if they don't accept the blackface tradition.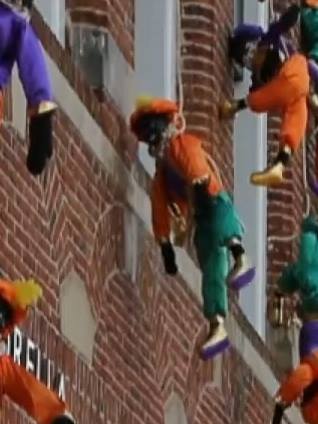 In Amsterdam, the figure has been changed to represent 16th century Spanish aristocracy. But it's strange that the wigs will only be of a dark hair colour. Spanish people are blond too, and shouldn't be treated as slaves either, so the xenophobic stereotyping continues. Why, too, is the soot smeared on faces but absent from clothing? It must be said that there are photos of these allegedly non-blackface figures, in which there is so much black paint covering them, that the difference between a sooty face and blackface is negligible.
And in the city of Utrecht: the blackface parade organisers, Stichting Stadsontspanning, say that there will be blackface this year, but not next year. A spokesman of the racist event in Utrecht cryptically added that blackface could even see a return!
The city of Leiden will have blackface too. The city councils in Rotterdam and The Hague have pledged to gradually phase out blackface. All these are university cities.
Yes, it's ludicrous but tragic: the Dutch state wants to phase out discrimination gradually, when they should be trying to eliminate discrimination. It's not even possible to "phase out" discrimination; it is either discriminatory or it isn't – allowing even one blackface, is like allowing one swastika – that is, it's allowing something that shouldn't be allowed at all. Racist discrimination is not being taken seriously, so it's very important for us to take a stand, because IF WE DO NOTHING, THE DISCRIMINATION WILL CONTINUE. So please spread the word, and come along Saturday.
Jennifer van Leijen