NTR wants 50 Shades of Blackface on children's television!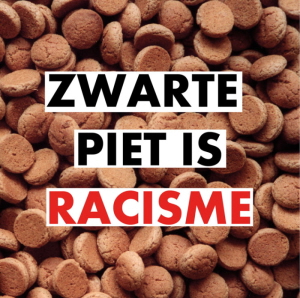 Last year Doorbraak activist Jennifer van Leijen initiated a campaign to stop the Dutch government from subsidizing blackface (Zwarte Piet or Black Pete) on children's television. Thousand people already signed. Van Leijen regularly writes updates. Here's the fifth one. (You can also still read the first, second, third and fourth update.)
It has been reported that the NTR television company have rejected the idea of changing the black caricatures into multi-coloured caricatures. Instead they want to emphasise that the black is soot and not a skin colour.
The NTR said earlier this year that it "speaks for itself" that they will have to stop using the current black facing (eventually). The only issue of contention was the rate and type of transformation.
The NTR representative hinted that the viewer should expect a sort of "50 shades of grey", but labelled anti-racist activists as an "extreme group". There will probably be blackface caricatures accompanied by white and grey figures, this year.
But this doesn't make the blackface any less offensive. To make a comparison: surrounding a swastika by teddy bears doesn't make the swastika less offensive.
The NTR television company are still selling lesson material to schools. The lesson material accompanies their daily racist television show. Therefore , there are still going to be helpers, probably in the same colonial slave costumes, but the form will be in some way different this year, but the NTR is not saying precisely how.
This racist programme has existed since 2001, so it's not a surprise for the government that the television makers create racist children's television. Censorship should not be an issue when it comes to protecting children, because censorship in the interests of all children, black and white, should be a requirement, and already exists. But we are not asking the government to censor, we are asking the government to stop subsidising this racist children's television.
Last year there was a parade in the Hague involving 600 people in blackface. The Hague is the city where the seat of government lies! The lax attitude of the government makes it easy for multinational companies to feel comfortable subsidising the racist blackface parades. The McDonald's hamburger restaurant subsidised the racist blackface parade in the Hague last year, and the (most probably) blackface parade this year too!
Racism sells, but should the government be selling it to our children?
Jennifer van Leijen