Update on the campaign against the Dutch government subsidizing blackface on children's television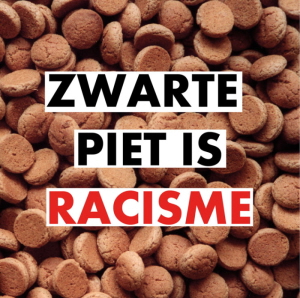 Doorbraak activst Jennifer van Leijen recently initiated a campaign to stop the Dutch government from subsidizing blackface (Zwarte Piet or Black Pete) on children's television. Thousand people already signed. Here are some updates by Van Leijen in which she also comments the Amsterdam mayor who said he's going to phase this racism out, instead of effectively and immediately eliminate it as he ought.
I want to draw your attention to one specific comment that a signee made: "In my opinion people can wear whatever they like, no bounds for freedom of expression, they can dress up as anything they like, even if it is provocative or offending (like Zwarte Piet is), no law to dictate people what to wear or not to wear. But not with taxpayers money. Law should prohibit any government funding to go to events or programs that endorse social inequality." This comment goes to the heart of why this petition was started. The government is actually subsidizing this offensive tradition that goes against all it's responsibilities towards its inhabitants, with it's minorities, and it's children. It is outrageous that the Dutch government has ignored human rights experts and institutions that have unanimously condemned the phenomenon as being discriminatory. The last institution was the Children's ombudsman, but last year the UN Committee on the Elimination of Racial Discrimination also issued a report (on august 28th 2015) asking for the Dutch government not only to intervene, but to allow protest.
Despite this call, an innocent man, Jerry Afriyie, was accused of attacking a policeman during his arrest (by five policemen). The incident was caught on camera. The authorities persisted in the prosecution (or should that be persecution) even though it was patently a false accusation. The process cost Jerry Afriyie his job. Public scrutiny enabled Jerry Afriyie to be found not guilty, and the arrest non lawful. Let this petition provide further public scrutiny. A country that houses United Nations courts should not show the United Nations contempt. Lets hold the Dutch government accountable. Please will you ask people to add their signature to this petition too. Every signature is important and appreciated- the people united, we will never be divided!
Racist caricature
You may ask yourself why this blackfacing phenomenon still exists in the Netherlands – to people from elsewhere it's a blatantly obviously racist caricature. It's because children are taught to view it as fun. If you're one of the only brown-skinned people in a classroom full of, mainly white, children who enjoy laughing at Zwarte Piet – and even your teacher joins in, or introduces this into the classroom – it's very difficult as a very young child to voice dissent. For anyone who's ever seen the black doll/white doll experiment, you've seen how black children also internalise anti-black prejudice. Dutch children become Dutch adults, and many Dutch people continue to suspend their critical faculties on this issue. Just as people in South Africa once defended apartheid vehemently, the vast majority of Dutch people defend blackfacing. It will take pressure from the international community to change the status quo.
Mayor
The king of the Netherlands and the mayor of Amsterdam recently spoke to a group of young people about the problems of institutionalised racism. They spoke about the police, who have admitted that they ethnically profile black people. And employment statistics prove that even highly educated black people have a problem with finding work due to discrimination. Regarding blackfacing, the mayor of Amsterdam admitted that the anti-blackfacing protestors had made their point (both the Childrens Ombudsperson and the Netherlands Institute of Human Rights have said that the figure Zwarte Piet violates human and children's rights, the court in Amsterdam said that it violates black peoples right to private life.) Yet NOBODY in the Dutch establishment is willing to ban the black face paint and Afro wigs. They want to PHASE racism out instead of effectively and immediately eliminate it as they ought. The mayor of the Hague, where the Dutch government is, said that it was a treasured tradition and the people who wanted to preserve it, weren't racists. But racist is, as racist does. The Netherlands may house various institutions such as the International Criminal Court, and the International Court of Justice, but are unworthy of the privilege. It would be better to have these institutions in a land that respected the rights of children and the disenfranchised in society, vulnerable groups which deserve protection.
Jennifer van Leijen