Dutch police apologise for proud photo in blackface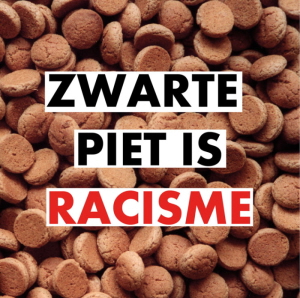 Last year Doorbraak activist Jennifer van Leijen initiated a campaign to stop the Dutch government from subsidizing blackface (Zwarte Piet or Black Pete) on children's television. More than 10.000 people already signed. Van Leijen regularly writes updates. Here is number 11 (also read numbers 1, 2, 3, 4, 5, 6/7, 8, 9 and 10).
The police from Arnhem-North posted a picture, posing proudly in blackface on Facebook. The photo has since been removed, and they have apologised. But note that they didn't apologise for wearing blackface; they apologised for leaving the impression that they were biased!
It seems that the police believe that WEARING blackface is "unbiased'. The police in the Netherlands are willing to fire a woman for wearing a hijab (muslim head covering) but think blackface is something to be proud of!
Earlier today, two people were arrested in Leiden, for merely standing next to a banner displayed over a bridge asking for the blackface character to be gone. In contrast, a group of thuggish far fight people illegally halted a motorway/freeway and the police didn't arrest them or even ask for their identification. The people who had illegally stopped the motorway/freeway wanted to stop an anti-racist demonstration from taking place.
They succeeded, because the police (operating under instructions from the mayor) consequently denied the anti-racist protesters their right to enter Dokkum, where the national blackface parade would take place. The thuggish far right group were free to attend the blackface event, and did so.
Freedom of speech, and assembly, does not apply to anti-discrimination activists in the Netherlands where policing is concerned.
In contrast, police and firefighters in New York are not allowed to wear blackface in public, even when they're not working. In a court case where police and firefighters were fired for wearing blackface in public the court concluded that: "The First Amendment does not require a Government employer to sit idly by while its employees insult those they are hired to serve and protect."
The Dutch government, police and judiciary still have a lot to learn about what upholding justice really means and requires.
Jennifer van Leijen