Podcasts – Compelling interviews and engaging projects on mutual aid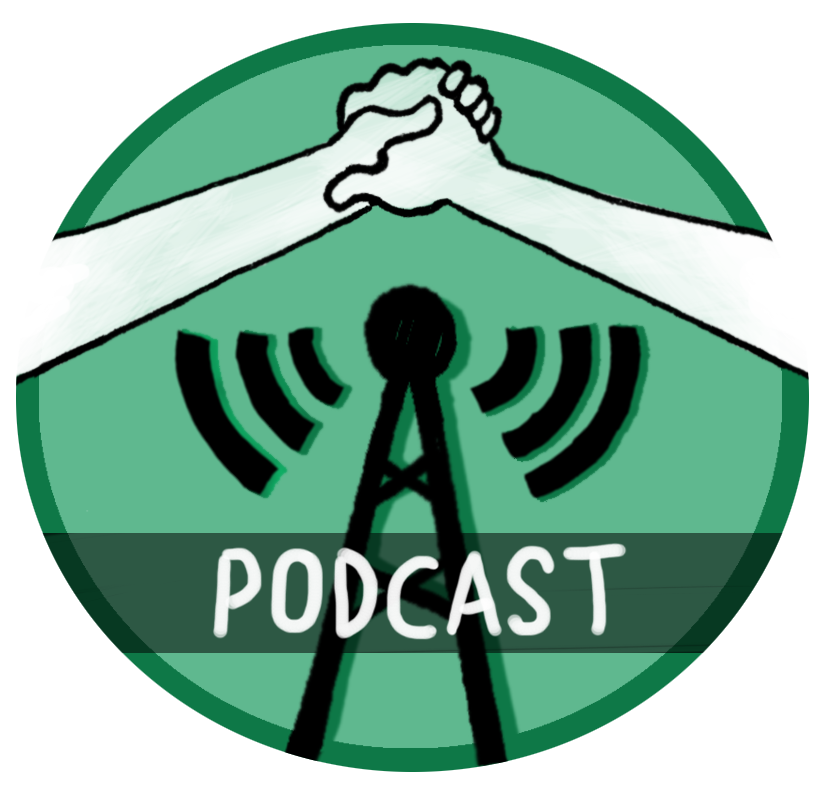 For this first installment in a series of podcast discussions, we, Petra and Ronja, listened to podcasts that center around or include the theme of mutual aid. Mutual aid is a form of cooperation, and an inspiration for social movements.
Mutual aid is definitely not charity. Liz explains this succinctly in the podcast "Rebel Steps", which we listened to first. Dean Spade explains at length what exactly mutual aid means in "It's going down". Joey Ayoub, in his podcast "The Fire These Times", asks how mutual aid projects can continue to thrive. Laura Flanders discusses a concrete example of mutual aid, namely transformative justice. Finally, we listened to the podcast "The Ex-worker" in which anarchist nurses talk about mutual aid and related issues in times of COVID-19.
All the podcasts we discuss below are in English.
Here's the Dutch original of this article. Hier lees je het Nederlandse origineel van dit artikel.
This will not be a review section like you'd find in a newspaper – we'll only review the podcasts we think are really worthwhile so we won't be tearing anything down. We will share with you what the podcasts are about and what we think of them according to a fixed format:
1. Rebel Steps
In brief: "Support Your Community (mutual aid)", explanation of mutual aid, 0:13h, English, transcript
The creators
"Rebel Steps" is a podcast about political action that focuses on direct action, solidarity, autonomy and mutual aid. Amy and Liz, the creators of Rebel Steps, live in New York and have both become more active as organizers since the election of Donald Trump, so they tell us.
What is it about?
In their episode "Support Your Community (mutual aid)", Liz explains what mutual aid is and how it differs from charity. She does this along with Chris from "Food not Bombs". Mutual aid forms and strengthens a community. This in contrast to government aid or other charities where there is a hierarchical relationship between giver and receiver of aid. This hierarchical relationship is clearly not present in mutual aid projects. Liz frequently summarizes what is being said during the episode and adds other examples of mutual aid besides Food not Bombs. She closes the episode with some words of encouragement to the listeners: "Believe in yourself, trust each other and get organized."
What did we think?
We definitely recommend this short and very clear podcast episode. The theory of mutual aid is explained in an accessible way and backed by specific examples.
Unfortunately, no podcasts have yet appeared in Dutch about mutual aid (or we haven't been able to find them, but please tell us if you know of any!). However, mutual aid is a theme that also plays a role in the Netherlands, see for example the online roundtable discussion of the BAK: "Practicing Tactical Solidarities II: A Roundtable on Mutual Aid, Emergency, and Continuous Care".
2. It's going down
In brief: "Building Power, Resisting Recuperation", interview with Dean Spade on mutual aid, 1:05h, English, no transcript
The creators
"It's going down" is more than a podcast. The people of It's going down see themselves as a digital community. Through their platform they regularly publish texts, videos and podcasts about activism but also about the theories behind it.
What is it about?
One such theory is the idea of mutual aid. In the episode "Building Power, Resisting Recuperation", transgender activist and lawyer Dean Spade is featured. Dean published the book "Mutual Aid" in 2020 which deals with the three main aspects of mutual aid: access to basic needs, solidarity, and self-reliance. In the interview Dean explains that mutual aid is about providing people within a community with basic needs. You can interpret this very broadly, like providing food during a disaster but also things like a network for people who are being exposed to racial violence. Meeting these basic needs is inextricably linked to solidarity: for example, it is not only important to cook for each other but also to provide insight into the reasons why some people have no access to food.
Collaboration within mutual aid projects is focused on participation and problem-solving, not waiting for the state to do something. During the interview, Dean also warns of the pitfalls of mutual-aid projects such as a project being co-opted by the powers that be, or exhausting the participants.
What did we think?
This podcast is a good start to become more extensively acquainted with the idea of mutual aid. Dean's enthusiasm is contagious. Fun to listen to! A bit on the long side though, and a transcript would have been great. After listening to this podcast, I read the book "Mutual Aid". It is well-written and full of practical tips for setting up mutual aid.
3. The Fire These Times
In brief: "Mutual Aid is Sweeping the World", interview with Zoe Smith on sustainable mutual aid, 0:42h, English, no transcript
The creator
"The Fire These Times" is a weekly podcast by Joey Ayoub from Lebanon on topics at the intersection of politics, history, philosophy, culture and science. The name of the podcast was deliberately chosen to refer to James Baldwin's book "The Fire Next Time". For his podcast, Joey has created several episodes on the topic of mutual aid. In one of the episodes, he speaks with Zoe Smith. Zoe had already published two articles on mutual aid in 2020 "Mutual aid is sweeping the world. Here's how we make this anarchist way of organizing last" and "The unthinkable has become reality. How can we build back better?".
What is it about?
During their conversation, Zoe and Joey set out to answer the question of how to ensure that mutual aid projects keep on going. Many projects are only temporary, unfortunately. To find an answer as to the reasons, they look at examples that (partly) still exist today. For example, there are the "Barrios de Pie" that started as a community kitchen and grew into a social movement in Argentina. More generally, according to Zoe, mutual aid projects go through an evolution. In the beginning, it's mostly about taking care of each other. Later, you see more and more people participating who are working together in a horizontal way. The horizontal approach is important. After all, only then can you solve problems together. This is in contrast to charity projects that have a top-down approach and only fight the symptoms instead of the actual problem.
What did we think?
Joey and Zoe are two fascinating people and for that reason alone it is worth listening to this episode. While listening, I unfortunately lost the main thread of the conversation a few times. I also miss a clear answer to the question of how mutual aid can be set up sustainably. Perhaps there simply is no ready-made answer to that question. Fascinated by the topic and the question, I started reading Zoe's article. In it, she provides a nice overview of research and publications on mutual aid. She concludes her article with a clear message and a possible answer to the question of how mutual aid projects can continue to survive: it is important to fight for something rather than just against something. Although I felt the urge to read the article alongside the podcast, the podcast is definitely worth listening to on its own. It really got me thinking about the practice of mutual aid projects.
4. The Laura Flanders Show
In brief: "Mutual Aid Justice: Beyond Survival", conversation with Leah Lakshni Piepzna-Samarasinha and Ejeris Dixon on transformative justice as a form of mutual aid, 0:31h, English, transcript and video
The creator
Laura Flanders is a well-known British-American journalist. For her show, she invites people who want to change the world.
What is it about?
In the episode "Mutual Aid Justice: Beyond Survival", Laura speaks with the editors of the book "Beyond Survival: Strategies and Stories from the Transformative Justice Movement." How can you set up mutual aid around violence and abuse? After all, not everyone can or wants to call the police. The process of transformative justice offers an alternative.
Leah and Ejeris, during the conversation with Laura Flanders, cite many examples of why someone might not want or be able to call the police. The reasons are varied and they're often related to a racist and violent police and justice system. Also, the police are not exactly known for being able to de-escalate a situation. During the conversation between Laura, Leah and Ejeris, the issue of locking people up also comes up. All three agree that locking up perpetrators does not solve anything in the long run. The causes of violence continue to exist. According to Leah, preventive work is also important. Prevent violent situations and inform each other about options for help. Ejeris adds that we can also encourage each other to intervene in emergencies. The common thread of the conversation is the message that transformative justice is not something you do alone but is something everyone can do, should do.
What did we think?
The conversation was recorded on the first day of the lockdown in New York and you can tell by the sound quality. Laura and her guests are clearly not in a studio together. Despite the sound issues, it is an enjoyable episode. Leah and Ejeris give a lot of specific examples and Laura asks thorough questions. As a listener, you get a good sense of why a process of transformative justice is needed.
In the Netherlands, transformative justice is unfortunately still in its infancy. However, individuals and groups are actively thinking about community accountability, something that is closely related to transformative justice. Community accountability is about how you deal with violence within your community. The Dutch podcast "Bloed aan de Muur" has made a number of episodes (12, 25, 27 and 28) about community accountability and specifically about violence within the left-wing scene.
5. Ex-Worker
In brief: "Anarchist Nurses Speak Out on Survival and Resistance", interviews with nurses about American health care and a their reaction to it, 1:56h, English, transcript
The creators
The Ex-Worker is a podcast by and for people who dream of a life off the clock. The people presenting this episode are named Clara and Alanis; that's all we know about them, we assume that the creators prefer to remain at least somewhat anonymous.
What is it about?
This episode is about surviving the COVID-19 pandemic in its broadest sense – from simply staying alive to dealing with a world where there seems to be no connection and no touch. The podcast is not so much specifically about mutual aid, but mutual aid does play an important role in the stories that are told. The podcast is itself a form of mutual aid.
Based on the premise that anarchists tend to distrust authorities, the question is asked: where can we get reliable information, who can we turn to determine what is sensible to do and not to do? The answer to that question is to start with the people who are closest to the crisis: health care workers, nurses, and preferably with a similar ideological background.
The result consists of a number of interviews with nurses. The first interview was reenacted because the primary care nurse interviewed wanted to remain anonymous for fear of losing their job. This person works in the southwestern United States and, among other things, speaks about the total lack of personal protective equipment. For example, they tell us that they sterilize used N95 masks by putting them in the oven at home because there just aren't enough masks.
This nurse repeatedly stresses the importance of following "shelter in place" mandates (staying home and minimal contact with others). It is clear that this person sees the terrible consequences of the pandemic on a daily basis, and that this person is also very aware of the tendency of some within the anarchist community to disregard everything the authorities advise for the sole reason that it is the authorities who advise it.
The second conversation – with two nurses in New Orleans (Vi and Sasha), is recorded and not reenacted. It is a very wide-ranging conversation that covers just about every conceivable aspect of the current pandemic. Among other things, the nurses talk about what parallels they see to the time of the AIDS epidemic, how familiar the situation is to nurses who can still remember those days.
There is a realistic discussion of the balance between minimizing risk and meeting people's deep-seated social needs.
The podcast concludes with calls for solidarity/donations to various mutual aid projects. There is also a brief focus on birthdays of political prisoners.
What did we think?
It is a very long podcast, almost two hours, but I never noticed that and I was kind of sad when it ended. I liked the second conversation with the two nurses from New Orleans the most, because it offered so many practical ways to deal with this pandemic.
The podcast is not dogmatically anarchist (yes, unfortunately that does exist) and that felt like a relief because this tends to be a bit of a thing among self-proclaimed anarchists. The need to follow certain advice despite the government giving it was brought up several times. Just because the government asks (or requires) something doesn't mean it's necessarily a bad measure – things like social distancing and "shelter in place" are just very effective against a virus. But while the government pays zero attention to caring about and loving each other and to the question how we can get through this psychologically as well, this podcast thankfully does. Absolutely worthwile to listen to!
Have fun listening!
Petra & Ronja
If you know of any other good podcasts about mutual aid, let us know in a comment or via doorbraak@doorbraak.eu.
Would you like to write something about podcasts from time to time? Then contact us at doorbraak@doorbraak.eu.